Name: Alisa Marra
From: Dalton, MA
Grade: Junior
School: Wahconah Regional High School
Votes: 142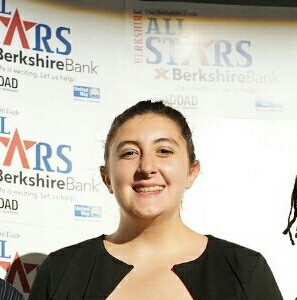 Imagine an open gym, little kids all different running around laughing and
yelling. Some able to walk and run, some need just a little bit of
help due to their disability. All of them there to be coached and for
an introduction to being an athlete. It is exhilarating standing in
that room trying to guide these kids to listen to the coaches. Every
child regardless of their disability was included as a member of a
team. I was there to guide them and help them feel included.
 Just five days later I sit on a team with proud parents everywhere
watching as their children who have been filled with a world of
can'ts receive medals for what they can do. As a team we huddle
together for the final prizes of the day. They call out Wahconah High
School as Second Runner up. Everyone jumps for joy. Every member
hugging every other member as we collect these medals; an outsider
might not get the utter joy of winning second place. There is such a
monumental moment of accomplishment from parents, athlete's and
even the school administration. .
I had begun a partnership with Special Olympics starting with the Polar
Plunge as part of LETR to support their fundraising efforts, and this
continued with the addition opportunities. I am also a volunteer for
the bowling team and the Young Athletes. I have furthered my
commitment as a proud member of the Unified Track Program which is a
fully inclusive team to support all levels of ability.
I have also spent a lot of time helping with the Best Buddies Program.
I have walked in the annual Buddy Walk and helped serve food for over
ten years. I highly support the message of inclusion they bring to
the community. I also attend the annual Buddy Games, a fun Olympic
style event which pairs peer mentors and those with developmental
delays together for a series of activities and sporting events.
Looking back on what lead me to dedicating 400 hours of my time to these
organizations is my unique family. Just months after I was born my
brother my older brother was diagnosed with non-verbal autism. Three
years later my younger brother was diagnosed with Asperger's
Syndrome. This created my very different family life. I never had
Saturdays, they were always taken up by my brothers' sensory
therapy, I made the best of it and tried to help the therapists with
my brothers and their friends. They drive my focus on inclusion for
everyone.
Throughout my life I have been surrounded by one of the most supportive and
inclusive communities. Every single person was there to help and
support everyone. No one is ever left out, we always find a way for
each person to join us. It is not always the easiest option to
include but it is the best and most rewarding. I will continue to
support Inclusion in everything I do.