Name: Ira Mae A. Collado
From: Paramount, California
Grade: College Freshman
School: California State University of Dominguez Hills
Votes: 0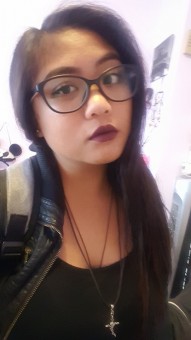 I
was a volunteer for Key Club in high school, and I chose that club
because it was more inviting than our sister club, Kiwins, and it was
also a way for me to give back to people and communities that needed
help. The minimum number of hours to volunteer were twelve hours a
month, but I usually volunteered between twenty to twenty-five hours
a month. The responsibilities I received as a volunteer were to
fulfill the minimum hour quota, actually do work that was assigned to
me by the organization, workplace, etc., and make sure that students
were silent during Key Club meetings, since I was Sergeant at Arms in
my senior year of high school.
The
biggest challenge from being a volunteer was convincing my parents to
let me go out and volunteer and drive me to the places I was
volunteering at. What has given me the most satisfaction was that the
leader or representative of that organization would tell us that they
were happy with the work we accomplished. And what I learned from my
volunteer position was that the little things do
help, and eventually the impact of those little acts grows.
My
career goals weren't in alignment with my past volunteering, but I
can say that my interests were fulfilled. I was able to organize and
pack books in boxes to patients from children's hospitals, I gained
work experience from a non-profit thrift store and our Kiwanis
Meeting Hall, as well as help raise money for children in need by
having more of our Key Club members volunteer at our meeting hall.
With
the amount of volunteering I was able to do and accomplish with Key
Club, I became more aware of the adults and children who didn't
have the basic needs of living. Through volunteering for the Molina
Foundation and Kiwanis Meeting Hall, I learned that Key Club's
goals—also what I believe—were in fact "forward thinking,";
we conduct park-cleanups to give children a safe and clean
environment to play at, organize food and/or clothing drives for the
homeless and the less-provided, we provide books as a way of giving
children education and imagination, and the money used and spent to
buy Key Club merchandise, pay for activities, and the money donated
by the number of Key Club volunteers that come to Kiwanis Meeting
Hall is given to people, adults and children alike, who are in need
of a home, clothing, food, and other necessities.

The change I seek through my past
volunteer acts is that more people help their communities, not just
for making their applications look good, but out of the urge to
actually help those in need, whether the act be small or big. As I've
said earlier, every little thing counts, so when I'll look back to
my volunteer activities ten or twenty years later, I'll know that I
was able to make a difference to at least one person or community.