Name: Destiny Rodriguez
From: North Dartmouth, MA
Grade: College Freshman
School: University of Massachusetts - Dartmouth
Votes: 8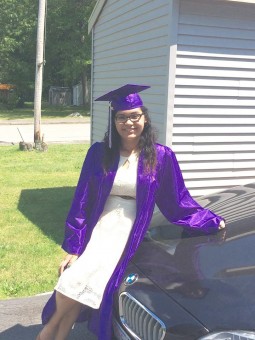 At first glance, the YMCA position I applied for just seemed like many
of the others. "Camp Counselor" is a title I have claimed
annually from June to August for the last five years. Because I am
certainly a veteran counselor, I had no idea this job would shape my
character as much as it has.
At Camp Ponkapoag, inner-city Boston kids are brought out to a
reservation for the day. Weekly, I spent 50 hours battling their
demons, introducing new experiences, and nurturing the best parts
about each of my campers. I learned that the best thing I could give
my children was my time. Unfortunately, not every child in the world
gets to feel wanted and loved, but every child at Ponkapoag does,
regardless of what they go home to. These children define patience,
struggle, and hope for me.
While thinking of ways to give back in the future, I considered ideas such as toy drives or drives
for canned goods. These are all amazing events, but I chose to look
to education as a means of childhood equality and have come up with a
few ways of how I can and will be proactive as just an individual.
Offering free or very affordable tutoring is one, to ensure that those who
need help not only receive it but are given help of quality. I am a
language tutor, and lend my services in our university's language
center as well as out of class to many who just know me and need
help.
I have also determined that readiness and eagerness for school may boil down to the costs and
availability of school supplies. The first day of school can be a sad
day for many, but there are students who are glad to be back in an
environment that is stable and safe. Providing students with
backpacks full of supplies is a simple way to nudge them in the
direction of success. Their focus could then be on the material
rather than feelings of anxiety when they are asked why they do not
have a pencil, or calculator, or notebook. I have volunteered hours
at Schools on Wheels (a backpack program already running for
Boston). The first day of school is already stressful, but with a
backpack full of essential tools, all students will be equally
prepared to start the new year.
I am also a big advocate for providing students with nutritious foods
that may not be available to them outside of school. Whether they be
unaffordable or just not the choice of their guardians, a child
should not be denied fresh fruits and vegetables necessary to their
growth. Within the YMCA position I currently hold in Dartmouth, I
often explore nutrition with my middle schoolers.
Giving back is crucial to what keeps our society good, and not just
"livable". I choose to start with those who could grow up to give
back and provoke change on an even grander scale.