Name: Heidi Hager
From: Belgrade, MT
Grade: 11th
School: Manhattan Christian School
Votes: 0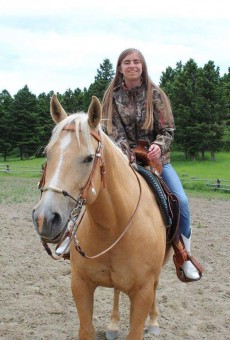 "Love
Your Neighbor As Yourself"
By
Heidi Hager
Ever since I was a
little girl, I've always shown an interest in helping others. When
I was in first grade, I, with the help of my Mom, decided to collect
100 T-shirts to send to children in Africa. I guess it just bothered
me that other kids like me didn't own any clothes. Beginning when I
was just a little bit older, my birthday celebration usually involved
going to volunteer at local food banks and other nonprofits with my
friends.. It was probably my mother who originally gave me that idea,
but I enjoyed it, and agreed to do it again and again.
I usually choose
to volunteer through my church because it is my faith that motivates
me to put others before myself, and because I want people to know why
I am doing what I am doing. Volunteering with my church has allowed
me to experience serving in amazing ways! Over all, I have easily
completed at least 538 service hours throughout my high school
career.
This is largely due
to a great program called SERVE. With SERVE, youth can go on brief,
week-long service trips all over the United State and Canada. Twice,
I have traveled away to serve on one of these trips, and twice I have
helped my church host volunteers who have come to our community to
serve.
On my trips away, I would spend 4 to 4 ½ days helping local thrift
stores, working to restore ecosystems to health, aiding the elderly
in tidying up their houses, cleaning public buildings, playing with
children in need at a free day camp, and many other things that
somehow helped the people of the town we were staying in. Helping my
church host SERVE not only involved participating in these
activities, but also other responsibilities as well. I was on a team
called the "homies", who are on SERVE campus or are out working
with the volunteers 24/7. We do anything that needs to be done.
Surveillance, giving tours, set up, tear down, and kitchen help are
just a few of our duties. Homies also have several meetings months in
advance to hosting SERVE for team bonding and bible study.
I
have learned a lot about myself through SERVE and other volunteer
work. I know that I love to help in very practical ways. It's
actually the somewhat menial tasks that I enjoy most, such as weeding
a garden or stacking shelves for a food bank. I also learned that one
of my greatest challenges in volunteering is to avoid burning myself
out, lest I lose my motivation. Currently, I'm not exactly sure
what career God is calling me into, but I have long been considering
social work or something of the sort. Loving others is one of my
greatest passions, and I hope to continue doing just that.