Name: Krysta Rynai Elaine Sheppard
From: Little River, SC
Votes: 0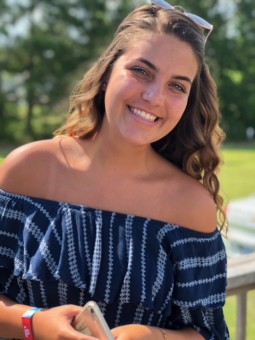 I
have always found myself volunteering in areas that relate to those
who are homeless or less fortunate right where I am from. I know that
the reason this is where I focus my time, is because I feel like it
is easy to connect with those who are in need, because at the end of
the day we are all people, and I know that if I were in need, I would
want help as well from someone who is willing to put time into caring
about me as a human. I have volunteered in these aspects, several
different times. Through a club called Chick-Fil-A Leader Academy is
where I tend to complete most of the community service. In the
academy we do service projects, and last year we chose to focus on
those who are homeless right in our community. We held a homeless
fundraiser, where we gathered supplies that we would put together in
baggies to send to the homeless in our community. We put the bags
together on a Friday night, to be sent out over the weekend. Through
this club we have also done a project where we made lunches for
college volunteers helping fix old houses in need right in our
community, and in fact down the street from me. That is a main reason
helping those who are homeless or in unhealthy environments, because
it real hits home when you realize that there are people struggling
right down the road from you. That really inspires me to help and
give what I have, even if that is only my time. I spent a lot of time
my junior year volunteering, and am only getting started now in my
senior year. As a volunteer my responsibilities were helping wherever
I was needed. Such as when helping the volunteers building the houses
by bringing them homemade lunches, me and a close friend who is also
in the Academy were asked to personally deliver the lunches to the
work sites, which really helped show that our work paid off. I think
that my biggest challenge where I volunteer is when you are exposed
to the problems that people are facing right in your community. It
makes you feel like you could do so much more than you are doing.
However, although this is a challenge I also think that it is also
something that inspires me to do more. Overall, I learn something
new from each service I participate in. I learn something that not
only betters myself, but shows me ways to step up and help others
around me, who are wanting to volunteer and help. In the future I
plan to major in business, but want to apply my faith in whatever I
end up doing. I am a Christian and know that my community service and
the things I apply my time to are ways that I worship the lord, and
give back. To me "Forward Looking" means picturing yourself at
some point in the near future. I see my activities as forward looking
because they are going to lead me in the direction I know I should be
headed. Seeking change worldwide is a huge thought. To me the most
important thing that I wish could be improved on a worldwide scale
would be humans coming to the realization that we are more similar
than different. I feel like once we realize this concept there are
many issues that the world is facing that could be improved. I know
for a fact that the volunteer services I have participated in would
have made a difference, because even if there is a chance that no
one's life had been "physically" changed being as I helped
guide them to maybe a better economic standing such as helping a
homeless person off the streets, I know that at least one person's
outlook on their situation has been changed. Our acts of kindness and
volunteering are so important because they also change people's
outlook on humans. They are exposed to kindness when they are living
in a situation where that may be hard to see. I look at is as a
privilege to be able to give my time to help people who are in need.