Name: Tristin A Swisher
From: Brackettville, Texas
Grade: 11th
School: Brackett High School
Votes: 0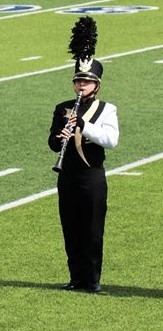 The way that I
volunteer is I offer free music lessons and help to people at my
school. I have a philosophy that everyone´s purpose is to contribute
something for the greater good, and music is my way of doing just
that. I have been involved with bands since I was ten years old and
it was a talent that stuck with me to this day. As I learned more
about music and advanced, I felt guilty that my peers weren't up to
speed. That is how I started. I found any moment in my spare time to
help my classmates. At first, it was just teaching those who played
my primary instrument, but with time it evolved into teaching and
helping those with an instrument I was unfamiliar with.
I do not have a
strict schedule, since most of my volunteer work is on a case by case
basis. Currently, I am working with four people one on one about
twice a week along with those who need just quick help with reading
music. My total hours per week averages out to four to six.
My responsibilities
are to make sure that every person I work with is satisfied at the
end result. I am a rather determined person and I will not give up
until the job is done.
The biggest
challenge I faced throughout this experience is learning instruments
that I was unfamiliar with so that I could help those who played that
respected instrument.
The most satisfying
thing is when you see the fruits of labor. It is so rewarding to see
the people I worked with are more confident in their musical
abilities. Not only that, but have decided to help out others as
well.
One thing that I
learned from my volunteer work is patience. Every person that I work
with had a different style of learning, and some of them picked it up
much more quickly than others. In the beginning, I found it difficult
to keep my cool when I couldn't explain myself to the point where
others can understand it. After some personal growth, that problem
vanished.
My overall goal is to become a Music teacher. I have
always had an interest and I made myself excel in that field. I
wouldn't be a human if I didn´t help others though, so I want to
dedicate my life to helping others learn about music, just like I did
in my volunteer work.
Studying music has
changed my life completely. It has opened my eyes and I see the world
in a completely different light now. I want everyone to understand
feeling so I like to help people to develop a passion for music and a
craft for their instrument