Name: Averi Welsh
From: Junction City, Oregon
Grade: Sophomore
School: Harrisburg High School
Votes: 0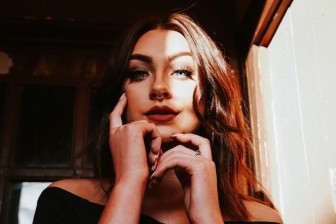 Community
and Me
Looking
outside my bedroom window as I begin writing my letter, I see my old
red wagon in the yard. Reminiscing
the days, I think of cantering around and laughing constantly with my
neighborhood friends as we rode our bikes and talked about the future
that we did not realize would be upon us so quickly. Fast forward to
my senior year of High School, I thought I had my whole life figured
out, but in reality it is an open book blank with pages, waiting for
me to scribe the words of the road ahead, which is both exhilarating
and yet a bit terrifying thinking of the unknown.
Through
the toils of daily life, measuring self-worth and trying to plan for
the unknown, I have never lost sight of what means the most to me,
which is giving back to my community, cultivating positivity for
others and myself. People in my community have found a special place
in my heart, helping me to grow into the young woman I am today. From
volunteering my time and resources with Giving Tree, a local charity
organization that works to gather Christmas gifts for the less
fortunate, to Once Upon a Prom, another favorite charity of mine that
collects dresses and accessories for girls that may not be able
afford them, I have always been mindful of the good within me and
positive influence I can have on others. This eagerness and ability
to promote wellbeing has also aided me in my dance career over the
years, teaching and mentoring younger dancers alongside the
instructors, building confidence and belief in themselves.

I
can bring diversity through my love and passion for beauty and
raising one's self-awareness through encouragement and learning.
Being confident in myself, and having ambition and entrepreneurship
to make my mark in this world has always been a centerpiece of who I
am. With that entrepreneurship and belief in me, the dream of
bringing the world together through innovations and opportunities is
a passion that drives me. Business and Marketing are my interests and
I hope someday to pursue a career in those fields. My work experience
has enlightened me too cultural life lessons and business atmospheres
for the world ahead.
As
you can see I enjoy working with people. Working with children is a
passion of mine as well. I am privileged that my mother works in a
middle school with behavioral needs students. I had the pleasure on
multiple occasions to aid in the classroom and work with the
children, but also learn from them in return.
Community
and society are ever-changing. Having the opportunity to be a part of
yours and the privilege to earn an education from your University
would fulfill a vision of mine. As I'm sure you will be reading
many letters, I am writing you my letter to bring to light my
intentions to offer your university my dedication, diversity, and my
commitment to helping our community. I pledge to make your campus and
community a better place through my love of life, learning, others,
and my heart.