Name: Madison M. McCart
From: Fuquay Varina, North Carolina
Grade: madisonmmccart@gmail.com
School: madisonmmccart@gmail.com
Votes: 0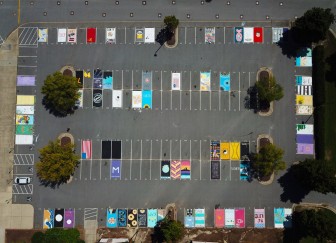 Confessions of a Waiting Room Chair

The rubber had hit the road. Asphalt. That's all I saw.
I was daunted by this drab, charcoal, somber, somewhat square space of
pavement that laid in front of me. I came up with the event,
organized it, got it approved by both my school and the recipient of
the donations: Duke Children's. Therefore, "PAINT YOUR PARKING
SPOT" posters plastered the school campus, my Instagram, the
FVStudCo twitter page, and the school's website.
The event was happening and parking spot 'D198' was the space to
unleash my creativity- to leave my mark on the school. But it somehow
seemed that as I sat in front of my spot the heat of the pavement had
sizzled my brain. I had been constantly consumed with replying to
emails, signing forms, and writing up documents that I had failed to
find something to share with the world about myself.
I was worried. Rain filled the forecast and if I couldn't figure out
what to paint, how was anybody else going to? There was no time to
stress; it was time to start. I was the example.
I began to push the various colors of my blubbery, gloppy thick paint
around forming my spot's design and started to reminisce on my time
volunteering in the hospital. I was flooded with emotions that
brought me back to what the waiting room chairs had once confessed to
me and what uncontrollable emotions they'd exposed.
When loved ones scanned the room in restless fear watching the time or
anxiously anticipated a buzz on their restaurant-style pager, the
confessions of the waiting room chairs disclosed that everyone, at
times, is suspended- often at their most vulnerable- left not knowing
what to do or think. They reminded me how people regularly bargained
with God to obtain the desired outcome and unveiled how our fate is
not only determined by the decisions we make but by those others have
chosen as well. That hope is sometimes instilled by others.
As I painted, I came to my own realization discovering that I sometimes
take a seat in my own waiting room chair- wherever I may be.
Similarly, the chair I sit in knows my fears, bargains, struggles,
and worries all for the next big thing. For this event: "Are people
going to paint?" "Is it going to rain?" For my future: "Will
they determine that I am good enough and different enough to plant my
roots, change a life, maybe more?" "Will my biggest dreams come
true?"

            I contemplated whether these intimidating thoughts and emotions were my
nemesis or my closest friend and came to realize not only that the
devil is in the details, separating finger-paintings from
masterpieces, but that it's the devil within me instilling drive,
ambition, initiative, and enthusiasm. With that, my parking spot
morphed into something much more.
As I finished, it became a metaphor of self-discovery – as I learned to
jump out of my comfort zone by painting what was in my heart, of hard
work- as I saw in it the physical results of my dedication, passion,
and fortitude, and of my newly found ability to put my trust and
faith into others- as I relied on volunteers to help me and on my
classmates to put what was important to them in their spot's. I
couldn't wait to see what more would come.
So, when the day of the event eventually arrived, 'CEEEELEBRATE
good times' blared in the background and, by the end, as I walked
the perimeter of my school's parking lot, drab, charcoal, somber
somewhat square spaces of pavement had transformed into a panoply of
palm trees, airplanes, baseball fields, llamas, and tributes. Pieces
of pavement evolved into spots of joy and discovery for everyone. If
those confessions helped me spark that, what will they help with
where my heart and mind are next?