Name: Perla Alvarez
From: Riverside , California
Grade: 9
School: Ramona High School
Votes: 0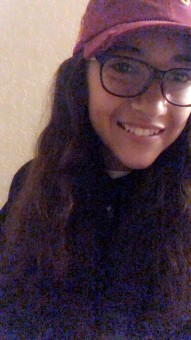 Road
To Success
Everywhere there is
pressure placed on youth to succeed and fix the world that previous
generations broke. The youth are pressured to succeed but not
everyone is provided with the opportunities needed to thrive in this
world we call our home. Youth Grantmakers is a volunteer organization
that grants money to non-profit organizations that provide youth with
the opportunities they need for success. This program has taught me
to have hope in the world and of the many ways that the youth of this
world can be assisted.
Everytime I look in
the news and hear more about the way we keep breaking the world, I
sit down and ask myself how we are supposed to fix this broken planet
we live in. When I sit pondering this question, I recall Youth
Grantmakers' monthly three hour meetings. I remember all of the
organizations we learn about where volunteers donate their time to
try to mend the world the youth are being handed down. In this
program I began to realize that not everyone in this world has bad
intentions. Denisha, our advisor, drives great distances teach groups
of adolescents how the world can be fixed and that it is not up to
our generation to do it alone. I know I am a privileged individual
who has been granted to opportunity to help the youth in a worse or
similar situation as my own gain faith in the kindness of humanity
and have the available resources they require to reach previously
unattainable goals.
Before Youth
Grantmakers, business meant greedy people running an operation with
money as their only drive. In our second Grantmakers meeting, we
focused on the discussion of non-profit organizations. During this
meeting, I came to the realization that nonprofits are businesses
that work for the good of others. Not all business is consumed by
greed but it actually works for the needs of others. Youth in our
community are struggling to succeed and find happiness but there are
people who give their money and time in order to see to it that these
quests for success and happiness are made easier. It is our job in
Youth Grantmakers to assist these people and make their
organization's financial difficulties easier. We reduce the factors
that may prevent them from being able to serve the youth in this
community. These grants we are able to give to organizations make a
difference in the community and allow for more youth to reach their
goals and eventually help others who they encounter.
Youth Grantmakers
is a program that has been able to change my life while allowing me
to assist other youth in need of resources for success. I have
learned to have faith in humanity and that there are many ways to
assist others. This program has allowed me to have an opportunity to
help others and I am glad to be a part of this experience that has
taught me about the works of business and community service.