Name: Colin Hill
From: Berwick, PA
Grade: 12
School: Berwick Area High School
Votes: 0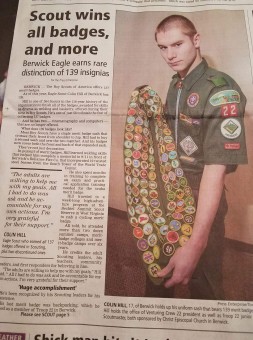 My
name is Colin and I live in a small community in north-central
Pennsylvania. Since elementary school I've attended community
service projects, activities, and events at least two weekends each
month and it has become a way of life for me. My servant-leadership
mindset has also influenced my decision in what has been my first
part-time job for the past year. I work in a nursing home as it's
my ambition to help people throughout my life. When I turned 17
last year I wasn't old enough to be a nurse assistant. For the past
year I have been working as a dietary aide, which is hard physical
work and you have to think quickly and ensure that the residents have
meals that meet their dietary needs. I see many residents of
the Berwick Retirement Village who have different ailments and
challenges. Some of the more vocal and expressive residents are
veterans.
Outside
of my job, I organized a couple special events for the residents, as
I asked my fellow Venturing Crew and Boy Scout units I help lead to
collect and distribute blankets, creating special hand-made greeting
cards, toiletries, and other supplies they run out of and help their
supporting family members. Then, I organized a special flag
ceremony and all of my fellow scouts came to the nursing home in full
uniform and I led the remembrance event. It brought smiles to
the residents, veterans and non-veterans alike. They were so
appreciative and it brought great job to their family members seeing
them so happy. Some residents with Alzheimer's disease that I
have brief interactions with have different stages of the disease.
Some recognize me and some do not but I am grateful to be a positive
part of their day.
My
late Great-grandmother on my Mother's side of the family passed away
from complications caused by Alzheimer's. Her name was Lily and
she was from Sydney, Australia where she was a seamstress. She
came to Delaware after WWII when she met my Great-Grandfather who
served in the Army. My Mom tells me about her life and the last
year she lived what the disease did to her mentally and physically.
My Mom has helped me to understand that helping keep the person calm
and feeling cared about when they don't remember things is very
important. It requires a lot of patience and empathy. I
will continue to be a positive part of the residents' day when I go
into work. I work a lot during our high school winter break,
especially during Christmas and New Year's holidays, when FT staff
take time off. It is difficult when I meet residents that don't
get visitations around the holidays so I do whatever I can in my
small PT role to make the residents feel supported and that people
like me care. When I attend college this coming fall (2019), I
plan to either study for nursing or bio-sciences. I'd like to
continue my servant-leadership mindset to help others and I'm looking
forward to building a career where I can help others.
My
leadership capabilities have grown significantly through high
school. I used to be afraid to make mistakes and risk letting
someone down. Through encouragement of my scout leaders I've
worked through my fears, practiced working through challenges and
have much more confidence to do my best. Now should I make a
mistake, it's usually fairly small in scope and I'm sure to learn
from and not repeat it. The past three years I've been involved
in wilderness living and survival courses and it's helped me to keep
my composure in difficult times. This allows me to help keep
myself and others around me focused on the tasks to improve the
situation based on my knowledge, skills, and abilities. This
includes projects for classes where I need to work with other
students who don't want to give as much effort or younger scouts who
are unsure and they are looking for older scouts like myself to help
teach them the ways to do things to have the most success.
Integrity
is an integral part of my mindset and this has helped my friends and
me as we have lost three people the past four years to teenage
suicide. Two of those individuals were former boy scouts I knew
of but not well. One was an older Boy Scout who was my den
chief when I was a Bear (Den) Cub (Scout). Another was a scout
who attended National Jambo with our contingent where I acted as a
member of our council's senior patrol. I've become much more
aware of the behaviors of others and getting to know people so if
their behavior changes I can inquire and show interest so that person
knows someone is there for them.
My
emotional intelligence awareness attributes have helped lead me to be
named a model employee at our local nursing home, and, engaging with
others in an empathetic manner. I appreciate what it takes to
lead by not only taking responsibility to help others, but to accept
help when offered. My most memorable learning experiences have
been learning from mistakes while I embrace the "Gift" of
feedback. Using feedback as a learning tool will help me with my
forward thinking and ability to re-focus my forward-looking
goals in life. This is something I have always carried with me as
I've done so much in my scouting career.
At
first I wanted to do well in scouts because I wanted to be considered
a person people could count on and to be accepted by the older scouts
as someone who contributes to our community. As a scout I've
strengthened my resolve to be a good person in my community.
Being an Eagle is a big responsibility and it's easier to make good
choices when you live by the Scout Oath and Law. I learned much
of my leadership and public speaking skills by being active with
local servant leader groups like the Lions, Elks, Borough Council and
township, Reliance Fire Station, and even in my own school.
As
a Boy Scout I give of myself and have done so for a couple weekends a
month with my family since before I was in cub scouts. I've had
amazing experiences helping others from clothing and food drives, to
community project fundraisers for the re-vitalization of our
community pool, operating holiday interstate traveler safety breaks,
parking assistance at local WWII encampments and boat regattas,
conducting leadership programs at our new teen center, coat and glove
drives for those families in need, conducting safety courses at
multiple outdoor recreation associations, making and serving lunch at
our area soup kitchen for people who are food-insecure, various food
drives, and boxing non-perishable items at quarterly food for
families programs. The veterans programs are very special to me as I
have aspirations to serving my country. I have witnessed that very
few youth are regularly attending and participating in flag
ceremonies, veteran recognition meals, and flag retirement events.
I carry with me the pride in knowing that projects I contribute to
help the community and bring the town together with many people from
diverse backgrounds contributing in some way. I credit the
adult leaders, my teachers, community leaders, veterans, and first
responders for believing in me, and giving me confidence to make a
positive difference in the world one day at a time. The adults
are willing to help me with my goals. All I had to do was ask
and be accountable for my own actions. I'm very grateful for
their support. I feel that the Scout Oath and Law are a way of
life and truly prepared is to make the most of learning
opportunities, invest time serving others and demonstrate respect to
our veterans, civic, and service community leaders and educators.
This mindset has shaped my life and provided opportunities I would
not have had outside of scouting. With the challenges our
communities currently face it's more important than ever that I
stay 'prepared' in the fullness of traditional and ethical values
known as the Scout Oath and Law.
It
was always important to me to utilize the scouting "Advantage" as
a way to participate in any many vocations and hobbies as possible to
have as many experiences as possible. The benefits of a scout
working through a total of 139 merit badges (earning the second
highest ranking scout in BSA history with 23 Eagle Palms) and
completing requirements have motivated me to develop excellent
study-habits and organizational behaviors well before one even
reaches college. Realizing how special this process has been to me,
I was contacted to be interviewed by two students of our local
(Berwick Area) Middle School teacher Aileen Lear's Sixth Grade
E.L.A. Class. They made the interview a part of their class project
and featured my Eagle Project. This was just as special to me that I
helped positively influence students younger than I am as it was to
see my project on the local TV news and newspapers. I was asked to
reveal my story of going above and beyond for my community and share
what inspiration I could pass along to others. I've led dozens of
servant leadership projects as Troop SPL and Crew President to
benefit families.
This
all led up to the most significant accomplishment I completed during
my high school career. This was over a period of one-and-a-half
years where I worked with first responders and their families to
learn about their experiences and how I could help people all over
the country heal from the terrorist attack on "9/11." In
the end I led a team who constructed a beautiful 9/11 Memorial in my
hometown in front of our oldest fire hall. To construct the memorial
I traveled twice to work with New York/ New Jersey Port Authority
representatives to receive over a dozen steel artifacts of the former
Twin Towers. I held multiple fundraisers just to acquire I-beams,
concrete and welding supplies to feature these artifacts
commemorating the former World Trade Center towers. A black granite
monument was placed in front of the sculpture dedicated to first
responders who died in the attacks and those who carry on today. I
held a dedication ceremony at our county's most historic fire hall
(Reliance Fire Hall in Berwick, PA) after construction was finished
and I've worked with the fire hall since to emcee annual
remembrance events.
Looking
back at my high school career, I'm pleased with my academic
performance (cumulative 96% GPA); athletic performance (lettering in
multiple varsity sports) and competing in swimming, football, track
and field, soccer, and volleyball; and, making time to serve up to 15
hours each month in my community service involvement (have documented
and surpassed 150 hours each year for each of the last eight years)
for various civic, service and educational organizations and within
my venturing crew and boy scout troop scouting organizations (where
I've served as Sr. Patrol Leader and Crew President).
Additional
accomplishments on the web (references):
This
is a link to an article written about my earning the BSA Eagle, Arrow
of Light, and Summit Rank Scouting Awards, as well as all possible
merit badges that scouting has to offer:
http://meritbadgeknot.com/scoutbios/hill-colin.pdf
This
is a link to the National 9/11 Museum archives where my community
service 9/11 Memorial project construction is documented:
https://registries.911memorial.org/#/memorials/219be1f6-f074-4629-9cbe-fb09078801e2