Name: Aiden Reeves
From: Riverton , ut
Grade: 11th
School: Riverton High School
Votes: 1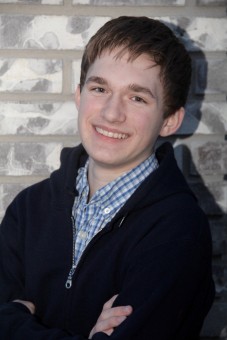 I come from a
service-minded family, so over the years I've been involved with
mentoring refugee families, sorting donations at the Utah Food Bank,
volunteering as an exhibit interpreter at our local aquarium,
cheering at the Down Syndrome Buddy Walk, helping at the shelter's
radio-thon, performing in benefit concerts with my high school band,
and organizing my Eagle scout project.
But I'll spend
most of this essay talking about my work at the aquarium. I started
there because I like to teach, and being an exhibit interpreter
(docent) gave me a chance to teach the visitors about the animals. I
spent two Saturdays there each month doing a 4 hour shift, and over
2.5 years I gave 198 hours. I did everything from helping with the
summer camps, to directing visitors, to answering questions, to
protecting the animals from over-enthusiastic kids.
I think the biggest
challenge was that some of the work was kind of boring. Sometimes I
would go for several hours and people would only ask me where the
bathroom was. I had to sometimes remind myself that even that was
important because the museum is staffed by volunteers instead of
employees, so they can spend the money on taking care of the animals
and keeping costs low for visitors. So I was helping even when it
wasn't all that exciting.
The most satisfying
part though was when I got to actually teach the visitors. It was
cool to tell them about all the interesting animals at the aquarium.
Volunteering helped
me learn how important it is to be dependable. You have to show up
on time, be where you are supposed to be, and not cut corners. It
also taught me that you can always find a way to help—even if you
are just a teenager. There are always places that can use your
talents.
I think my
volunteering will help me in the future. Looking forward, I've
been accepted to a competitive engineering college. I've always
wanted to be an engineer because I'm a good problem-solver and I
think I can do things that will help solve the world's problems.
And being around so many service opportunities has opened my eyes to
what some of those problems and challenges are.
In 20 years I
probably won't be involved with the aquarium, but by having the
experience of showing up and being responsible and contributing, I
think it will have made a difference in my life by making me a better
employee. And I think it will have made a difference to my community
by keeping the aquarium open so that more generations can learn about
the world and hopefully care about it enough to take care of it.