Name: Bianca Weyers
From: Henderson, Nevada
Votes: 2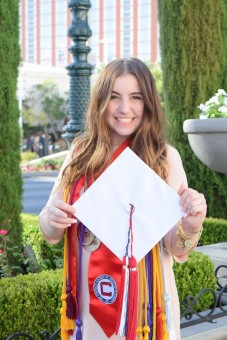 During my high school career, I chose to focus on volunteering in education
development for elementary students in impoverished communities. I
chose to work in this field because of a week my church spent
mentoring students in a government-subsidized neighborhood in Las
Vegas, Nevada. This week showed me how important education is in
shaping so many aspects of an individual's life, even beyond their
years in grade school. This led me to become a permanent volunteer
intern for this organization, Club Christ Ministries. I spent an
average of 5 hours per week volunteering in the Henderson center for
this organization. My responsibilities as a volunteer intern included
one-on-one tutoring for each student, focusing mainly on reading and
math. I also conducted literacy assessments every three months to
test how effective our programs were for improving the reading
capabilities of our students. Outside of the direct help with
homework and extra practice in core subjects, my main responsibility
was to create bonds with the students, becoming a mentor and role
model for them to turn to whenever they needed extra support, both in
and out of their studies.
My biggest challenge as a volunteer was to change the outlook these students had
on their school experience. Instead of viewing school as something
they were forced to attend, we wanted to change their perspectives to
love learning and growing their minds. While this was my biggest
challenge, it also gave me the most satisfaction as a volunteer. One
of my most challenging students, Tyler, spent every tutoring session
complaining about how he simply was not smart enough to learn how to
read or do math. Once he finally learned and became more skilled in
these areas, he started loving our reading sessions. He viewed
himself as smart and capable of being successful in school. It was
not his academic growth that inspired me to continue volunteering,
but rather how his attitude about education completely shifted.
These experiences in volunteering has completely shaped what I want to contribute with
my life. After graduating, I hope to work in public law to promote
policies that will improve education for students in impoverished
communities. I seek to innovate programs that will provide them the
mentorship they need, and often do not receive at home, that will
enable them to academically succeed.
If I were to come back in ten, twenty, or even thirty years, I do believe my volunteer
efforts will have made a difference in these students' lives.
Through our programs, they are so much more likely to succeed in
education. Therefore, this community in a couple decades will see a
generation of men and women who value their education, escape poverty
as a result, and promote education their children thereafter.