Name: Jayden Alexander Samaniego
From: Montebello, CA
Grade: 12th
School: University of Oregon
Votes: 0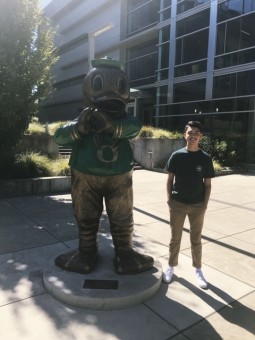 Jayden Samaniego
THE VOLUNTEER
From one Generation to the Next…
Volunteering for me is a family tradition that was started with my Dad, who spent many
years coaching or helping with many of the activities that I
participated in as a child. So when the opportunity presented itself
at school to help run a youth volleyball program, I was really
excited to pitch in.
Although the program only had games once a week, I had to invest most of my
Saturday's to make sure everything was set up so the players and
their families would have a great time. In addition to just getting
the court ready, I also was able to officiate, which was tough
because I had never really played volleyball before. I was able to
catch on rather fast and the kids made if really fun for me because
they were young enough where they were mostly looking to have fun, so
that took much of the pressure off me and really allowed me to focus
on what really mattered and that was being there for them.
I'd have to say that one of the greatest rewards for me was seeing the joy that
kids got from just having fun; it really helped me to see why my Dad
placed such a high value in working with kids. He would always tell
me that many of the kids in our community needed good role models and
he took that very serious and so did I. I know that I'm still young
and I have a lot to learn but I'd like to believe that my efforts
in some small way made a difference in someone's life. I may not
have been the best volleyball official or coach but I did my best to
be supportive and understanding, whether the kids did well or made
mistakes I strove to help them have a great human experience.
I'm not quite sure that running a youth program is aligned with my career goal but
being a great parent and giving back to my community definitely are.
Many of the kids I played sports with really did need someone to
believe in them or help them and I'm proud that my Dad took the
time to do it. It makes me proud that I have been able to follow that
tradition and share what I've learned with the youth of my
community. My Dad grew up without a father and he always shared with
me the impact that his coaches made on his life. I'm fortunate to
have reaped the benefits of everything they invested in my Dad they.
Many of his coaches unknowingly became his father figure's and
helped to mold him into the person I so greatly admire and whom I
hope to be like one day.
Volunteering came easy, because I had a great role model to show me the ropes.
Someone who showed me the joy of helping others and the lifelong
impact that helping your fellow man can have on someone. I'd like
to one day be able to offer that to someone the same way it was
offered to my Dad.