Name: Maia Porzio
From: Wilmington, NC
Grade: 12th
School: Hoggard High School
Votes: 0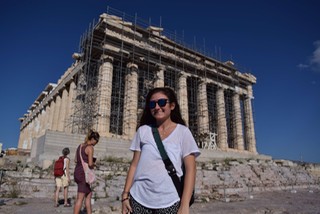 Volunteering
for Traditions
There
are some things you don't chose when your born and your ethnicity
is one of them. I am a Greek American who didn't realize the
importance of my culture until recently. I've always grown up
surrounded by the food, music, and traditions. They were an aspect of
my life I naturally accepted and went through the motions of
practicing. In Middle school, I was introduced to the Greek dance
group at my church filled with members my age and up. I watched the
fluidity of their movements and precision within their steps. Their
arm swings were in sync throughout and I was captivated by their
smiles. They brought the movements to life through the noticeably
enjoyable fun they were having. It was in that moment I realized I
wanted nothing more than to be a part of it. I wanted to take charge
of my role within my culture. That year, I became the youngest member
of the troop.
I
Greek danced competitively for five years until I was the only member
left in the group. Every other member went off to college. Even
though there was no team left for me to dance with, I did not stop
dedicating my time to Greek dance. This time, however, I was not a
participant, I volunteered to be the instructor for a new group of
first year students. I felt an obligation to continue a historical
tradition. Culture lives through people. Without those who care to
preserve it, dance and traditions will be nothing more than
photographs. I wanted every Greek child to feel connected to their
roots just like I did when I "stepped off
the sidelines."
With
the help of a former instructor, we started a new team. We held
practices twice a week, Saturday and Sunday, for 2 hours each. My
team was made up of nine kids, all first year dancers. I had lots of
confidence, starting out strong teaching difficult dances. I would
break down the steps and make easy, repeatable counts for the kids to
process the motions. After they learned the steps, we'd discuss
technique and style.
It
wasn't long before I realized not all the kids caught on as quickly
as others, and not all of them wanted to be there. It's one thing
to teach but another to teach and spark interest. I wasn't there to
teach them steps, I was there to help them fall in love with their
culture as I had. Each day I worked hard to make practices exciting
and show them how much fun dancing is.
At
the competition in January, after 6 months of practicing non stop,
they put on the best performance I could have hoped for. Their smiles
beamed to the back of the theatre. In this moment I realized I'd
succeeded in showing them the joy of our culture, and that the
cultural tradition of dance will continue to live on through me and
through those I teach.