Name: Jonathan palone
From: Kalamazoo, Michigan
Grade: 12
School: LOY NORRIX
Votes: 0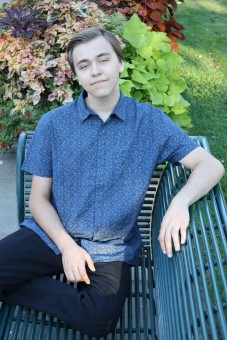 Education
is a privilege in life and its something I believe every individual
should pursue as being a human on this earth. There are some things
schools can not teach, in fact I've learned some lessons and
experiences can only can earned. This is where community service
comes into play in the average scholar, as a A student that
graduated Loy Norrix high school in Kalamazoo in ,2017 with 3.7 high
honor cords I understand the impact traditional school educations
have on an individual they teach us to understand many things in
life but experiencing and doing volunteer work teaches you things
that will last and be just as valuable as what is taught in high
school classes.
I have done many
volunteer projects in my life starting as a sophomore in high school
working with the Loy Norrix division of Peace Jam in Kalamazoo
Michigan. The first volunteer project I took on was a living history
project where Peace Jam. I spent over 20 hours a week out of school
helping and working on this volunteer project. Students used time
out of school to go to the Battle Creek, Michigan Veterans Affairs
hospital and interview a veteran to later return and write an essay
on the Veterans legacy personal and military, then we planned a trip
back to the hospital and presented the polished essays to the
veteran we interviewed and shared a lunch. We also put flags on
Veterans gravesites in their honor. This project taught me a lot
about working with individuals you may not personally relate to, I
learned to take interest in all aspects of my community such as
those who served and had the chance to honor and thank a member of
our community who contributed their service for our freedom.
Next, with Peace Jam I
completely a community event where we went to elementary schools and
read books to children to encourage reading and a college future.
For this project i dedicated about 8 hours a week collecting book
donations and coordinating the project. This project we collected
book donations for the youth and took them on a field trip as high
school mentors to Western Michigan Universities engineering campus
off Parkview in Kalamazoo,
Michigan.
For this
project responsibilities
included mentoring
elementary youth, collecting donations and reading to
students.
Another volunteer
organization I have most
recently
worked with was the Kalamazoo Deacons Conference. This organization
is well known in Kalamazoo and is very involved in our community. I
spent my 2018 summer volunteering at the Decans Conference in
Kalamazoo. When volunteering here I helped mostly with manual labor,
we collect donations throughout the day of any types, furniture,
clothes, appliances anything that could be of use to someone less
fortunate in our community. The Kalamazoo Decans Conferences
offers free
food to
the community
and takes
donations and
items to
return and
help the community. I spent countless hours working with this
organization. Volunteering here i was working in a neighborhood that
is less fortunate, it was the Northside of
Kalamazoo.
Volunteering here i
learned to step out of my comfort zone and had positive experiences
interacting with members of the community i may of otherwise not
met. Working here taught me hard work pays off and gave me the
satisfaction of helping my community.
My biggest challenges
throughout volunteering over the years is adapting to new projects
and situations. Every volunteer project and organization has their
own ideas and goals they are trying to accomplish and these goals
and objectives change situation to situation. Coming to volunteer
with an open mind is the most important thing to me when starting a
new project. Just
getting on board and running in the manner of the people your working
with can sometimes be uncomfortable and challenging but when you
overcome these obstacles and take part in something bigger than
yourself with members of your community you truly feel the sense of
being a member of your community and being part of humanity.
I have worked with quite
a few other volunteer projects and organizations but these three
stood out to me and i felt like i should share the experiences i had
helping others and being a part of my community, i hope to do more
volunteer work in the future because it is something i think is
important in building character, bringing the community together and
helping those in need which are things that make strong healthy
,communities and make change.