Name: Jadah Auguste
From: Lake Forest, IL
Grade: Junior
School: Woodlands Academy of the Sacred Heart
Votes: 0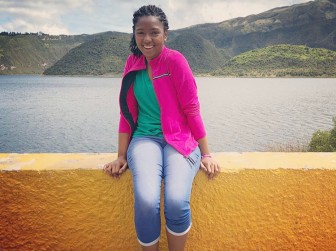 I
have volunteered in a variety of areas from working with children at
my church to preparing meals for veterans, accumulating roughly
sixty-two hours of service over the past six months. As of late, my
focus has shifted more toward the medical field. My passion for
helping people battling illnesses has grown tremendously over the
last two years. This growth is accredited to my time and experiences
in hospitals and my interactions with the volunteers there.
The
day before my 15th birthday, I had major pancreatic surgery to remove
a tumor. Afterward, I had to stay in the hospital for ten days for
recovery and observation. It was one of the scariest moments of my
life but the volunteers at Lurie Children's Hospital helped to make
it less terrifying. They would come and show me card tricks, bring me
board games to play with my parents, and encourage me to participate
in the hospital-wide bingo games. I did not realize it at the time
but I would have had a much harder time if it were not for their
pleasant distractions keeping me from thinking about the pain or how
much I wanted to go home. After this experience, I realized that I
wanted to be able to do the same thing for someone else.
I
began seeking out different things that I could do in this area and I
came across the American Cancer Society. I started a team at my
school for their Making Strides Against Breast Cancer walk. My team
raised a total of $580. We all came together on the walk day along
with the 130 other teams to walk two miles to support those battling
breast cancer. The biggest challenge for me was getting people to
join my team and come out on a cold Sunday in October to walk with us
but the weeks of planning and the stress that came with it finally
paid off when we showed up on walk day with all the other teams and
we were able to see the community coming together to walk for a
cause.

Through my
experiences as a volunteer, I have learned that just one friendly
person willing to help can make such a huge impact in the world. The
way that we can be most forward-looking as a worldly community is by
helping the most vulnerable members of society and I hope that in my
volunteering, I can encourage others to do the same just like how the
volunteers I encountered inspired me. There are more advances being
made in cancer research every day but in order to continue to make
more, we need people to continue getting involved be it by donating
money or their time. I believe that by continuing the cycle of
volunteerism, we will be able to find a cure in the near future,
which will change the lives of so many people for the better.