Name: Natalie Nyamekye Carr
From: Lawrence, New Jersey
Grade: junior
School: Lawrenceville School
Votes: 0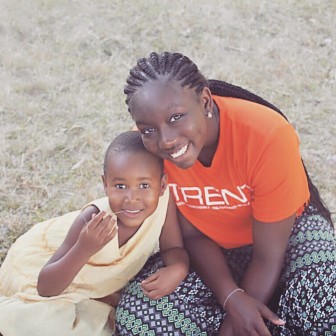 With
Love, Natalie

I
have never realized the meaning of being a worldly citizen until this
summer.

I
had visited Mainsprings JBFC in Kitongo, Tanzania, a trip that
brought 12 Lawrenceville students and 4 teachers to an all-girls
orphanage in the tiny village along the shores of lake Victoria.
Building up to the trip, my mind was filled with nervous thoughts of
how I would be able to live in the standards that the girls do for 12
days. I worried over what I would eat, living without my phone,
taking ice cold showers, and etc. Simply put, I was more nervous
about my comfort than anything else.

When
our group arrived in Kitongo late at night, my worries had
immediately melted away. The girls had gathered around us, introduced
themselves, and incessantly hugged and kissed us as if we were
relatives. The Milky Way lit up the sky, the waves crashed gently
against the shore, and despite how dark the night had been, each
girl's smile illuminated our surroundings and expressed the deepest
love
for
us
even though we were complete strangers to them.

At
Mainsprings JBFC, volunteers come to help work on a develop the
permaculture that the campus uses to feed all of its girls as well as
all of the children at the Joseph and Mary school for select children
in the village area. Volunteers also get to know the girls, hang out
with them, and for a short while become their mentors and shoulders
to lean one. I in particular was very close with a 6 year old named
Joan, a 12 year old named Eva, and an 16 year old named Winifreda;
forming bonds with them all through special moments where we talked,
played, danced, or sang, getting to know each other better. While I
was there, I also helped to sustain a Literacy project which teaches
parents and younger children to read and write so they can help their
children in school with homework and get a head start in their
education respectively. My group also happened to visit during a time
where Tanzania celebrated Watoto Afrika (Children of Africa Day) as
well as a day of summer olympics. Us Lawrenceville students organized
poth celebrations which (if I do say so myself) were fantastic!

Every
delightful day at JBFC was filled with more joy and love than the
last, and my thoughts about my own "comfort" washed away into
Lake Victoria. Because I had come to know those girls as if I had
known them my whole life, this particular trip introduced me to the
concept of how love turns community service to serving
your community.

These
days we see instances where those who need our help are turned down
because they are "different" or a potential "danger" to our
society. What we often forget is that these are our fellow
human beings;
they struggle, dream, eat, and breathe just like any other. This
means that we should treat others the way we treat ourselves. Sounds
familiar right? This kindergarten rule (as I like to call it) applies
very much today as it did in the sandbox.

To
be a worldly citizen is to work and serve others with the goal of
making the world a better place to live; with the passion and care to
step out of what your used to; essentially, to be a worldly citizen
is to work and serve with
love.