Name: Noah Appel
From: Beachwood, Ohio
Grade: 12
School: Beachwood High
Votes: 0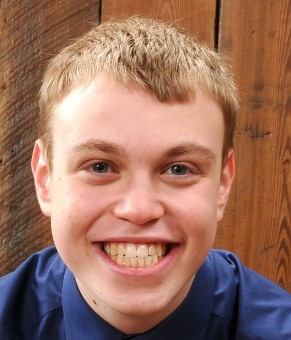 I
have volunteered for 170 hours since high school started (2014 school
year) in various locations such as through Overnight Camp, Jewish
Community Center, Teen camp, and Temple. Volunteering in groups
share the same qualities of working cooperatively with others, taking
initiative, and anticipating the next step of a process.
I
have tried to be useful in any volunteer situation, even if it was
not what I had in mind when I signed up! When I helped with a
triathlon at the Jewish Community Center of Cleveland, I was
picturing timing the participants and handing out medals. The
reality was sorting through towels in the locker room, but I was part
of a bigger volunteer picture, and the point was to help where they
needed me!
When
I volunteered at the Special Needs Center, I really enjoyed playing
games with the teens. When I volunteered at the Food Pantry, I
smiled at the shoppers and organized the canned goods. I truly
believe a smile and positive attitude, along with a kind word can go
a long way to making someone's day a little brighter.
One
of my favorite volunteer positions was as a Teacher's Assistant at
Sunday School. I was working with the kindergarteners, and I never
knew how the day would go! Sometimes I'd spend the time walking
the children back and forth to various places, sometimes consoling a
crying child, and many times tying shoes and telling them that their
parents would be back soon. I realized that I enjoy talking with
children and helping them see the fun parts of each day's lesson.
Although
it sounds a bit strange to say—I'm grateful to have struggled
with a stutter because it has strengthened me. The kindness that I
feel towards others now is the foundation of my character. Going
through this experience has been a big part in making me who I am.
In volunteering, I've tried to foster kindness in each of my
interactions. I realize how important kindness is. I choose to be
like the people who helped me rather than the people who brought me
down. I always have a smile on my face and a kind word for others.
I constantly look at the bright side, and try to find the joy in
every situation.
I
often get asked what I plan to "do" for my career. Although I'm
going into college as an "exploratory" student, I do have some
fields of interest that will guide me as I figure out my purpose.
What my favorite experiences have in common is that they all involve
being in the larger community, & helping others. They can all be
characterized as "forward looking" because I'm very interested
in taking classes at college that involve these qualities and
characteristics on my way to a career path. Whether this takes the
label of educator, social worker, or communal leader, I'm already
looking forward to earning my degree even as I start my journey to
college this fall.