Name: Jada Brinkley
From: Elkton , MD
Votes: 0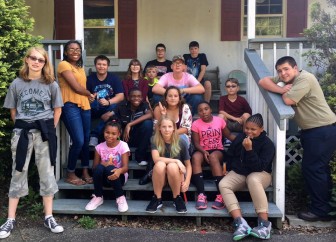 A quote that I hold dear to my heart states, "You may not be able to
change the world, but you can change the world for one person." I
believe these words to the fullest, and it's a perfect embodiment
of what volunteerism is.
Between the National Honor Society, the AKAette Scholarship Program, and
various other opportunities, I have easily racked up well over 200
hours of community service. With that being said, I have also created
plenty of sincere memories from my services. And by far, the most
dearest memories of me volunteering will forever lie with the after
school program, Generation Station.
I've attended Generation Station since I was in the the sixth grade. Back
then it was just "kinda cool" and simply somewhere I went because
my mom made me. Truthfully, as the years went on I began to resent
the place and think I was too cool and old to attend. I became the
kid with her earbuds in at all times to make me as disconnected as
possible from everyone else.
Thankfully though, I matured.
I am going into my senior year of high school making it my sixth year
of attendance at this program. These past few years at Generation
Station can be marked by a new and improved Jada who truly does love
going each Monday through Thursday during the school year. My role as
a student at Generation Station has increased to so much more by
assuming responsibilities as one as a staff member. I can be counted
on to tutor the students, lead activity time, serve the daily snack,
and be present and willing to help out with anything.
With the first three years of Generation Station feeling like torture to
my younger self, these past few years have surely felt refreshing. In
the most literal sense, this program has become synonymous to a
second home, filled with all the people that I truly love and care
about. I'm eager to help the younger students finally conquer that
one concept in math that they'd been struggling with. I'm more
than willing to spend my weekends coming up with new activities that
the students are excited about. I anticipate the end of the school
day solely to go to Generation Station just to talk and be with the
students and staff members.
Frankly, this will be my final school year at Generation Station. Although it
started off rough and terribly, a refined attitude made all the
difference. This place and the people taught me the importance of
always having a positive perspective and making the best of any
situation. If I may also add, the students have definitely taught me
the art of patience. Circling back to my quote, this after school
program has clearly changed my world, and it's surely done the same
for other students. All I have to say to Generation Station is thank
you; thanks for not giving up on me and thanks for allowing me to
serve.