Name: Autumn Bell
From: Dodgeville, WI
Votes: 0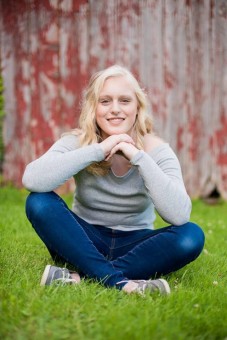 I have chosen to volunteer at my local hospital not only because it
gives me exposure to what it's like to work in the medical
field—which is necessary with my goal of becoming a cardiothoracic
surgeon—but because helping others is something I am passionate
about. Thus, every Tuesday I volunteer in the emergency room in the
morning and on the hospital floor in the afternoon for a total of
five hours. In the emergency room, I stock and sanitize the
examination rooms, fold gowns and linens, prepare identification
bracelets, make copies, check for expired medical supplies, monitor
the beverage supply in the ambulance garage for the EMS staff, and
perform other miscellaneous tasks. Once I finish in the emergency
room, I head up to the hospital floor where I visit patients and
provide them with emotional support, as well as retrieve anything
they may need including blankets, fidget pads, food, beverages, and
nurses.
So far, my biggest challenge as a volunteer has been knowing how to
properly talk to and comfort patients who are in a mentally confused
state. Sometimes it can be difficult to understand what they are
saying and, consequently, what they need. I do my best to make them
feel heard, appreciated, and understood, and each day, as I gain
confidence, I learn how to better handle these types of situations.
In contrast, my greatest satisfaction as a volunteer has come from
being able to see the miracles the hospital staff is able to perform.
For instance, there was once a little boy brought in who had been
trampled by cows. He was in critical condition, and the doctors and
nurses had to bring him back from the brink of death several times.
However, he survived, and within just one month of recovery, he was
left with only a few scars, a cast on his arm, and a tube in his
stomach. He was back smiling and enjoying life within no time. By
volunteering in this type of environment, I've learned that there
is a lot of behind the scenes work that goes into running a hospital.
No task is a small one, as they all work toward the ultimate goal of
providing every patient with the best care possible.

My activities as a volunteer are "forward looking," as they have a non-immediate positive impact.
While my tasks may seem menial on the surface, they may help save
lives and foster a positive change in the world. If I wasn't
volunteering, the nurses and doctors would have to perform my jobs,
taking away time from their patients. With my help, they don't have
to worry about running to the supply room to grab an IV starter kit
or EKG pads during an emergency and can instead focus solely on
helping their patients. Thus, if I were to come back in ten, twenty,
or thirty years, I would think my activities made a difference, as I
may have unknowingly played a role in saving lives.