Name: Ariana Rojas-Camacho
From: Leesburg, Virginia
Grade: Junior, 2018-2019-Senior
School: Riverside High School
Votes: 0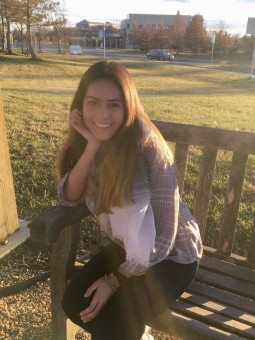 Throughout
my high school career, I joined many organizations that helped
contribute to my community. My favorite activity out of school that I
took part in was a church group. We meet every Sunday from 6:30pm to
8:00pm, from August to May. In this organization we did food drives
during the holidays to help the community. For one occasion I had
the honor to be the co-president, along with another member. Our goal
for this activity was to "spread the word" of homelessness.
On
one Sunday night we attracted about sixty people. Throughout the
evening, I managed the sales, assured the tables and chairs were
properly set, and made sure my group stayed on task. We were able to
create an activity that showed how some civilians are not as
privileged and can't eat big meals every day. We were fortunate
enough to have a speaker that worked at a local Women's Shelter to
speak on behalf of homelessness.
One
of my biggest challenges as co-president was assuring everyone stayed
on track. Sometimes my fellow classmates would go on their phones, I
had the responsibility of having everyone carry out their tasks.
Working as a team was a bit of a challenging, but since all of us
shared a common goal, we were able to work out our differences.
I
organized this activity and assigned the members of my church group
different roles to ensure the activities success. I held the
responsibility of coordinating this event in less than two weeks. I
helped motivate my group to stay on task and communicated with them
often to accomplish our task. I learned how to be a better leader,
how to manage time, since we only had two weeks to organize this
event. Throughout the process of being co-president I acquired new
communication skills, gained responsibility, and felt happy to be
part of a group that contributes to the community.
I
think that "forward-looking," means accomplishing a task that
will can a difference in other people's lives in the future. I hope
that in the future more people will know about homelessness, its
effects, the statistics involved, and seek to volunteer when they get
a chance. By having more people informed, chance can occur faster,
and a difference can be made. If I were to come back in a couple of
decades, I believe my volunteering activities "made a difference."
Throughout this particular event, we fundraised money which was
donated to the local Women's shelter. By fundraising money, we
helped ensure that the women and their children would have enough for
their necessities. I am grateful I was part of my church organization
for two years, where we helped contribute to the community in
different ways.