Name: Saraya Roberts
From: Woodbridge, VA
Grade: junior
School: home schooled
Votes: 0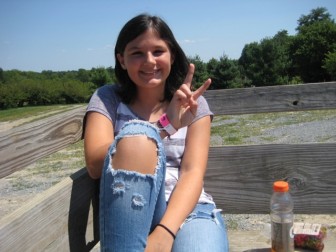 How
I Found My Dream Volunteer Position by Saraya Roberts
When
I was 16 years old, my sister and I drove to our local kill shelter,
because we wanted to do volunteer work with animals. We walked into a
cold building with at least 20 dog cages. Each cage was separated
from the other with a cement wall to match the cold cement floor the
dog was placed on. The only other thing in the cage was a small,
inadequate bed made of vinyl. Our hearts broke knowing these
conditions were all that some of these dogs would know before being
euthanized. The likelihood of them being adopted before then was very
low, because that shelter has a three-day time limit for each dog to
be adopted. After visiting the kill shelter, and realizing how little
impact we might have there, we decided to try again at a humane
society. The differences in environments between the two are immense.
Colorful couches and painted walls surround you as soon as you walk
in. They have, at most, 10 cages that are always filled with soft
blankets, pillows, and sometimes even treats or bones for the dogs.
We felt we could make a difference here.
I
have volunteered every week for two hours at a time at that animal
shelter for over a year now. About a hundred dogs have come and gone,
and I have been a part of the time and effort put into caring for
them until they find a new home. This experience has increased my
strong love for animals and turned it into an intense need to help
them. There are too many animals subject to cruelty in our world. If
I could do anything, I would educate people everywhere on the
importance of protecting the most vulnerable beings in our world.