Name: Makira Burns
From: Apopka, Florida
Grade: 12
School: Apopka High School
Votes: 0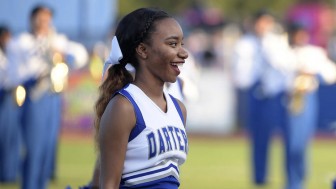 I chose to volunteer in the music department in my school because I
am a musician and the band program was in need of volunteers. I
usually volunteer about 5 hours a week during band rehearsals. I am
responsible for providing water to the band and color guard members,
which keeps them hydrated. I also volunteered in the Tunnel to Towers
annual event where I provided water for 5k runners.
Being out in the Florida heat–which usually averages to 95 degrees
in summer/ fall– definitely can be challenging while being on the
field practicing for hours. As a volunteer, my biggest challenge was
keeping up in the fast-paced environment. Our high school band has
about 250 members. While on 5 minute breaks, about every member
rushes over to get a cup of water. Being able to refill quickly and
efficiently was a difficult task for me considering that I was very
new to this.
As a volunteer, I have the satisfaction of knowing that I have helped
my community and school in any shape or form. I have learned that
every day is a new chance to be able to make a change. Rather than
sitting home on the internet or sleeping, I am making a difference,
even if it seems little. My interests and career goals are not in
alignment with my volunteer focus at this time because I aspire about
to become a judge one day by first being a lawyer. In the future, I
plan on volunteering in the local program "Teen Court", where I
have the opportunity to take on the position of an attorney and
present facts of several different cases.
The term "Forward looking" means that someone or something is
being developed and progressing. It means that you are planning for
the future. I see my activities as "forward looking" because I am
already demonstrating commitment into my community and being willing
to work. A change that I seek to foster the world referencing my
activities, is more people becoming a helping hand. If the world had
more people to step up to the plate and volunteer, we could become
stronger together. We can improve many things in ways we don't even
realize. It starts with the simple question, "How can I help?" If
I were to come back in ten years, I think my volunteer activities
could make a difference by influencing and motivating more people in
my school to help and get out of their comfort zones.