Name: Jeffrey Epro
From: Leominster, Massachusetts
Grade: 2019
School: jeffreyepro@gmail.com
Votes: 0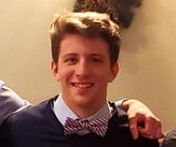 Jeffrey Epro
I have advanced the
spirit of giving in my community through the club "G.I.V.E." or
"Getting Involved in Volunteer Experiences". Since my freshman
year, I have been heavily involved with this organization. There are
many events which we volunteer at; such as farm festivals,
Thanksgiving food pantry handouts, card-making events for children in
hospitals, food drives, warm clothing drives, outdoor cleanups, and
helping teachers with miscellaneous tasks on certain days of the
year. With all of these events happening, we are easily one of the
most active clubs in my school.
Not only do I help
out with the actual events themselves, but I was elected as an
officer to be a part of the executive board of G.I.V.E. As an
officer, I attend the monthly executive board meetings where we
discuss the next volunteering event and if there is anything to
change in the last event. This an important experience so that I know
how to successfully run a service club in the future.
We
have a popular term in G.I.V.E. When someone forgets that they're
spending their time to help others, they are experiencing
"Volunesia". This is a Filipino term that defines the moment when
a volunteer forgets that they're changing the lives of others
because they are changing their own life in such an influential way.
It's similar to Mahatma Gandhi's quote: "The best way to find
yourself is to lose yourself in the service of others". I can
readily agree that volunteering has changed my life substantially.
I
don't experience Volunesia every time I volunteer – similar to how
a runner is not guaranteed his runner high every time he exercises.
To me – however – this makes Volunesia all the better. Like an
adrenaline junky chasing the next high, I find myself signing up to
help out wherever and whenever I can. As the leader of many clubs in
my school, I am able to push the value of service onto the clubs'
members too. In National Honor Society, I am the secretary. One of my
duties is to post volunteering opportunities every week for students
who need to fulfill their service requirements.
I
love volunteering because it exposes me to experiences that are
normally rarefied from my life. Just this year, I have learned how to
work the polls at the midterm elections, how to effectively babysit
children, and how to design an effective food pantry handout system.
These are only a few examples of the benefits of volunteering that I
have experienced in my time with G.I.V.E. I hope that will continue
to provide these opportunities for students after I have graduated.
I
plan on continuing my volunteering lifestyle at whatever college I
attend. I know that no matter what college I decide, there will be a
plethora of service-based organizations that I will seek out. In the
off-chance that there aren't any, then I will be the founder of the
first service club, so that my college classmates may experience
Volunesia themselves.