Pennsylvania Drivers Ed Online.
The course you need.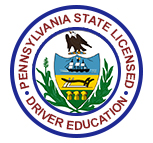 For new teen drivers looking to get their first driver's license, DMVedu in coordination with D.I.A.N.A Driving School offers a fully Pennsylvania Department of Education licensed Online Driver's Education course that you can take on the internet from home; working whenever and wherever you want to. Upon completion of course, you will receive your official certificate of completion.  Our online drivers ed course allows you to work at your own pace and obtain your unrestricted license in no time!

Course Price only $80.00
I really liked taking this online course because it was easy and convenient to my schedule. I met all my legal state requirements and instead of sitting in a boring class, I was able to take it from the convenience of my own home! All the material was easy to read and learn from. I highly recommend this online course.

George Russell, Decatur
Pennsylvania Drivers Ed Online
#1 - Enroll In the Course
Get started in minutes by paying with a credit card. Access our interactive course to study at your own pace. The online course can also be accessed on all mobile devices. Simply click to enroll and then you'll be able to start the course.
#2 - Pass Online Exam
You'll get everything you need to pass the first time. Take the exam as many times as you want. Our Pennsylvania drivers education course is online for your convenience. Complete our course without dealing with the hassle of waiting in long lines!
#3 - Receive Certificate
Your official Pennsylvania DMV Certificate of Completion will be available to download as soon as you pass the final exam. Then, the next step is to go to the DMV office to take the written test for your learner's permit!
How Pennsylvania online driver education course works
Learn About our Online Drivers Ed Course in Pennsylvania
Dmvedu.org in Coordination with D.I.A.N.A Driving School offers you fully approved Online Driver Education course from the Pennsylvania Department of Education.
If you're ready to move forward in your driving future, our online driver's ed course is for you. Drivers under 18 years of age can graduate from the junior driver's license to the unrestricted full driver's license after completing our state-approved online driver education course. When you complete our course you will be issued a certificate of completion that proves you have completed driver ed and are ready for the freedom and responsibility of the unrestricted license.
The good news for parents is that many insurance companies offer discounts to young drivers who have completed a
driver education course. Contact your insurance company for details. Driving can be expensive – car payments, parking
permits, gas, etc. can all be expensive. Driver education is the easy and cost-effective way for you to reduce those
expenses, making the price of driving manageable for you and your family!

The cost of the course is only $80.00.
How the course works
Our Pennsylvania state-approved online driver education course is divided into a series of 9 chapter on a variety of topics covering the breadth of information you need to know in order to be a safe driver. The course includes text, pictures, video, and links to numerous helpful websites. There is a quiz at the end of each chapter that you need to pass with a score of 75 percent or better before you can move onto the next chapter. Once you have completed all 9 chapters and quizzes, and have studied for the state-required minimum of 30 hours, you will be eligible to take the cumulative final exam. Once you pass the final exam, you'll be done with the course and D.I.A.N.A Driving School will issue and mail your certificate of completion of driver education!
Don't worry–It is impossible to fail our course. If you forget some information and don't pass one of the chapter quizzes of the final examination, all you have to is retake it. We want you to succeed and we ensure your success in this course by letting you take and retake the quizzes and exams as many times as you want!
Questions? Contact Us Now!