Arizona Traffic School Online.
The Course You Need.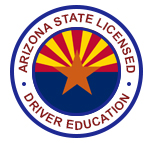 Our traffic school course is licensed by the State of Arizona!
Our traffic school online course is available for students who have received an eligible citation in Arizona and wish to complete their required defensive driving course from the comfort of their own home. You can work on the course when you want and move at your own pace!
Traffic School Course Fee $35.00!
#1 - Enroll In the Course
Get started in minutes by paying with a credit card. Access our interactive course to study at your own pace. The online course can also be accessed on all mobile devices. Simply click to enroll and then you'll be able to start the course.
#2 - Pass Online Exam
You'll get everything you need to pass the first time. Our course is made to be easy and convenient, ensuring you meet your completion requirements hassle free.
#3 - Receive Certificate
Once you complete the course and pass the online exam, we'll notify the courts and Arizona DOT of your completion. We do all the reporting for you!
Traffic School Online Course – Licensed by the State of Arizona
Fee Calculator
Prior to beginning our course you will need to pay our $35 course fee, a $20 state fee, a $45 state surcharge, and a court fee that varies depending on the court you received your citation from. You can calculate your total cost to attend using our fee calculator here.
Registration Requirements
In order for us to register you with the Supreme Court of Arizona for the Defensive Driving Course, you will be required to fax or scan and upload a copy of your traffic citation and a copy of a government-issued identification card.
Course Completion
You must complete your course at least 7 days prior to your court date. If you have less than 7 days before your court date, please contact the relevant court for a continuance before you enroll with us to take the course.
Flexibility
The course does not need to be completed in one sitting! You may log in and log out, completing the course over as many study sessions as you would like.
How Arizona online traffic school course works
Arizona Defensive Driving – If you've received a citation for an eligible offense within the state of Arizona, you may be eligible to complete a defensive driving course. This course, better known as traffic school, allows you to comply with the court requirements and helps keep your insurance costs down by removing points from your driving record and/or reducing the fee for your traffic ticket, depending on the circumstances of your case.
We're proud to offer an online defensive driving course that you can complete on the internet, which will allow you to take care of these requirements and save you money, all from the comfort of your home. You can work on the course whenever and wherever you want. Our online traffic school is always accessible and fits into your schedule! Our online class is the easy way to complete traffic school!
If you have been instructed to take a Traffic Survival course, please do not enroll in our course. Traffic Survival courses are different from Defensive Driving courses. Click here to find out more about Traffic Survival courses.
Our Arizona Traffic School course is operated by National Driving and Traffic School. National Driving and Traffic School has years of experience using our online courses to teach students about a variety of driving topics. We are a leading provider of online driver instruction; over the years our courses have taught tens of thousands of students!
Our course is licensed by the State of Arizona. You can be certain that your enrollment in our defensive driving course will not only be educational but will also fulfill your legal obligations.
If you have any further questions about our traffic school or our course, you may reach us via email at [email protected].
Take Points off Your License
According to your state, we notify the State/county courts, the State DMV, or Motor Vehicle Commission of your completion so that points are not added to your driving record or are removed from your driving record.
Insurance Reduction
Completion of this defensive driving course online may qualify you for a reduction in insurance rates. Contact your insurance agent for more info.
Convenient Online Learning
Our defensive driving course is online for your convenience and can be accessed on any device. No waiting in lines! Simply click enroll to start the online course.
Free Demo
Our free demo will briefly give you the same access as a registered student, so you can see exactly what you're paying for!
Structured Learning Program
Our courses are designed to make it easy and convenient to meet your Court/DMV required traffic school requirements online. You can take the course at your own pace and login and out as needed to meet your time requirements. Quizzes and finals can be retaken in order to pass to the course.
Fully Approved Provider
National Driving and Traffic School has helped hundreds of thousands of students over the course of nearly twenty years learn how to be defensive drivers and meet their court/DMV requirements. We are State licensed and bonded in each state we operate.
Questions? Contact Us Now!