Nevada Traffic School Online.
The Course You Need.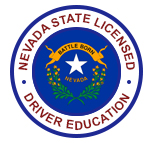 Our traffic school course is licensed by the State of Nevada!
If you've received a Traffic Citation and are looking for Traffic school, we have a DMV licensed online Traffic Safety course available for you. All you need is your traffic citation information when registering and we'll help you get your Court Mandated Traffic Safety Course taken care of. No need to worry about the points on your driving record raising your insurance rates–our Traffic School course is licensed for Point Reduction as well. Save money by keeping your insurance premiums down!
Traffic School Course Fee $34.95!
Nevada DUI School Online
Our DMV licensed DUI course is available for drivers convicted of drinking and driving. Nevada law requires drivers who are convicted of driving under the influence to take an Alcohol and Controlled Substances Course. This course is mandatory for all convicted drivers and our course will satisfy all DMV and court requirements.
DUI School Course Fee $90!
Nevada Drivers Ed Online.
The Course You Need.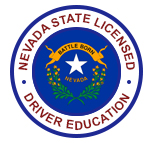 Our traffic school course is licensed by the State of Nevada!
For new teen drivers looking to get their first driver's license, we offer a fully Nevada DMV
licensed Online Driver's Education course that you can take on the internet from home; working whenever and wherever
you want to. Upon completion of course, you are can download your official certificate of completion to take the DMV.
Our online drivers ed course allows you to work at your own pace and obtain an Instruction Permit to start driving in no time!
Course Price only $34.95!
#1 - Enroll In the Course
Get started in minutes by paying with a credit card. Access our interactive course to study at your own pace. The online course can also be accessed on all mobile devices. Simply click to enroll and then you'll be able to start the course.
#2 - Pass Online Exam
You'll get everything you need to pass the first time. Our course is made to be easy and convenient, ensuring you meet your completion requirements hassle free.
#3 - Receive Certificate
Once you complete the course and pass the online exam, you can download your certificate of completion to provide to the court or DMV.
Nevada Online Traffic School & DUI Course
We operate in the state of Nevada as a fully licensed and bonded driving, DUI and Nevada traffic school.
Our License Numbers
Traffic Safety
TSS000038505 – For more information, click here
DUI000038512 – For more information, click here
All of our course offerings are fully licensed by the Nevada DMV and/or other governing bodies and will satisfy the requirements of the state of Nevada for driver education, driver improvement education or alcohol and controlled substances education. You can be certain that your enrollment in our courses will not only be educational but will also fulfill your legal obligations.
Nevada Traffic School Online
Experienced
NVDriver.org is owned and operated by National Driving and Traffic School. Our online courses have helped tens of thousands of students to learn how to drive defensively. National Driving and Traffic School is a leading provider of online driver instruction and has years of experience in the field!
Fulfills Legal Requirements
Our online courses are fully licensed by the Nevada DMV and/or other governing bodies and will fulfill the Nevada state requirements for driver improvement education, driver education or alcohol and controlled substances education. Your time spent learning from us will be informative and will satisfy the associated legal obligations!
Traffic Citation and Point Dismissal
NVDriver.org offers two online courses that can help you clean up your driving record and get traffic citations removed or points dismissed. Simply choose the course with the number of hours / points you want to remove from your record and get started!
Convenient
Our online driving and traffic school courses make it easy for you to get the training and requirements you need to get on the road. You can take the driver's ed, traffic school or DUI course you need anywhere and at any time…day or night with your smartphone, on your computer or tablet!
Free Demo
Still not convinced? Check out our Free Demo page, where you can sign up to get a quick, 5 minute glance at all that our courses offer. Choose from our Online Drivers Ed, Alcohol and Controlled Substances Awareness Course or one of several Traffic Safety courses we offer.
Charity
Here at National Driving and Traffic School, we care about making a difference in the community. When you enroll in our online driver's education course, you can choose one of our supported charitable organizations to donate ten percent of the purchase amount towards!
Questions? Contact Us Now!