Georgia Drivers Ed Online.
The Course You Need.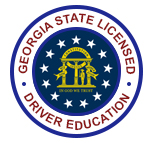 Our online drivers education course is available to Georgia residents seeking their driver's permit (learner's permit) online. Our unique online learning system makes it easy, fast, and even fun to satisfy Joshua's law requirements from your computer. Getting your Georgia drivers license has never been so easy. You can work on the course when you want, wherever you are, and move at your own pace.
Course price only $49.99, $34.95!
I really liked taking this online course because it was easy and convenient to my schedule. I met all my legal state requirements and instead of sitting in a boring class, I was able to take it from the convenience of my own home! All the material was easy to read and learn from. I highly recommend this online course.

George Russell, Decatur
Georgia Drivers Ed Online
#1 - Enroll In the Course
Get started in minutes by paying with a credit card. Access our interactive course to study at your own pace. The online course can also be accessed on all mobile devices. Simply click to enroll and then you'll be able to start the course.
#2 - Pass Online Exam
You'll get everything you need to pass the first time. Take the exam as many times as you want. Our Georgia drivers education course is online for your convenience. Complete our course without dealing with the hassle of waiting in long lines!
#3 - Receive Certificate
Your official Georgia DDS Certificate of Completion will be emailed to you as soon as you pass the final exam.
How Georgia online driver education course works
Georgia Drivers Ed Online
There's a lot of information about Driver Safety and Defensive Driving Techniques that GEORGIA teens have to learn before they can complete their required Georgia Driver's Ed course to obtain a Drivers License. Since Joshua's Law was passed in 2005, all teens below 18 years of age are required to take a 30-hour Drivers Ed course in order to earn their Class D drivers license. With school and work constraints of both teens and their parents, it can be difficult to find the time to fit in this additional in-class course for a full duration of 30 hours.
Our online Drivers Ed course is the perfect solution to this dilemma. Students can take the course any time from the convenience of their own home or any where else, so it can be made to fit into any schedule. The course is divided into modules and quizzes so it can be completed at each individual student's preferences. Once students meet the time requirement and pass all quizzes, they'll be able to take the final exam as many times as they wish until they pass the final exam. Once they have completed the final exam they will be emailed a copy of a Certificate of Completion issued by the DDS, which will allow them to make an appointment with the DDS to apply for a provisional Georgia drivers permit (sometimes called a 'learner's permit in Georgia') and eventually earn their drivers license.
Georgia Defensive Driving Course
We offer an effective drivers education program that is structured around proven Georgia defensive driving course, teaching techniques and safe driving practices, with a main focus on changing driver attitudes to reduce traffic collisions caused by human error. Our specially structured course allows students to learn superior driving skills at their own convenience, time and place.
Safe driving practices include search, communication, speed and space management such as keeping the three-second rule, risk management, and preparing to drive. These skills are lifesaving skills everyone should have. Taking our online driver education course helps teens develop these skills early, which they can then apply during their 40 hours supervised driving practices. If there isn't time for teens or their parents to make it to an in-person class, our online Drivers Ed course is ideal for learning defensive driving skills and safe driving practices to prepare them for the required Georgia's DDS driver's test.
Nothing's more important than learning about driver safety and defensive driving techniques and how to acquire such specialized skills to reduce the every day risks that drivers face when negotiating the modern day complex roadway system safely for Georgia teens, and this online course will not only help teach safety, but also allow students to do so at their own pace, any where and on their own time. Enroll today! Only $34.95
Questions? Contact Us Now!