Name: Chantelle Roddy
From: China, Maine
Grade: 12
School: Erskine Academy
Votes: 0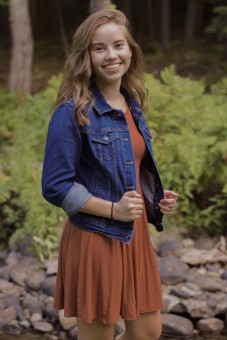 Being Their Role Model
Never did I understand how easy it is to take what you have for granted.
Growing up with parents who loved me unconditionally and were able to
provide for me just seemed so normal. I could never have imagined
going to bed hungry, unclothed, or with no heat in the winter.
Unfortunately, that is the sad reality of so many children, but how
was I ever going to understand that? My life was all I ever knew.
When I was 15 years old I was given the opportunity to be a volunteer
counselor and youth leader at Camp Mechuwana. This role consisted of
6 weeks of what didn't seem like anything I hadn't done in the
past: watching kids 5-12 years old, bringing them to and from
activities, planning games, etc. Youth leader training weeks before
camp started was when I was given the total rundown on everything I
needed to know. Little to my prior knowledge did I understand that
this summer camp was a safe haven for so many kids living in the
foster care system, in low income households, with disabilities and
ever other unthinkable challenge that I was fortunate enough to never
have experienced growing up, but it wasn't until I started my first
week when I discovered that I wasn't there just to watch kids. I
had the important responsibility of being a role model and friend. I
needed to provide for them a place where they could pause their
difficult lives and just have fun.
There were many days filled with laughter where I could just enjoying
watching kid's antics, however, some days were harder than others. I
found out how difficult it is to correct naughty behavior when you
know that the reason their acting out is because they don't receive
much attention elsewhere. Many times I had to put my personal
problems aside and fully devote my attention to the needs of these
kids, but it wasn't about being perfect, I just needed to be there
for them. It's hard watching some beg for food every ten minutes
not knowing if they will have a dinner plate waiting for them at
home. It's not easy holding back tears when campers hug onto you
for dear life at the end of their camp session because they don't
want to leave. It became evident how blessed I am to have the life I
do. I'm so thankful that I had the pleasure of being a person of
refuge for so many of these children. If only they knew that they
became just that for me.
If it weren't for this opportunity I have year after year, I would've
never know my desire to work with kids. Because of them, I intend to
pursue a career where I can live to inspire more youth to seek their
own potential and know that they can be successful in life no matter
their circumstances. "Forward looking" means to me being there
for kids because they are the future and we have the ability to give
them the tools to do great things. I believe that years down the
road, these kids will think back to all us volunteer counselors and
strive to model us being models for them. Even if just one kid looks
back and finds that we helped them in some way, that will make all
the difference in the world.