Name: Abdifatah Shukri Hassan
From: North Olmsted, Ohio
Grade: Freshman
School: Cleveland State University
Votes: 1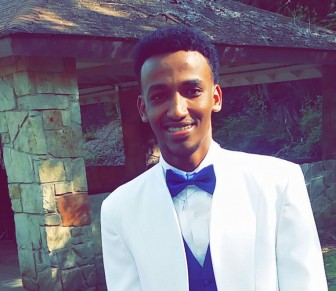 Abdifatah
Hassan
Cleveland
State University
Bridging
The Gap Between Seniors and Youth
From
the days I could remember, I remember roaming in my little village in
Kenya and thinking that I will change the world. My dream become true
on a fortunate friday when my dad broke the news that I was going to
USA. I was very happy, something deep down my heart told me that all
my dreams will become true in America.
When
I came to USA, I was a junior in high school. After a semester, I
applied for a program offered in my school for 12th graders called
SITES, Social Involvement Through Education. That program changed my
whole aspect on volunteerism. Students were allowed to volunteer for
about 2 hours a week for 2 days during school hours. I was randomly
assigned to volunteer at a nearby nursing home. I have never been
around seniors except my grandparents but I decided to accept the
challenge.
At
first when I started volunteering at the nursing, the first two weeks
was just getting to know everyone. A month later, I knew everybody, I
was playing games, volleyball, bowling, puzzles, art and craft,
leading exercises and getting seniors to and from exercise. I have
learnt a lot from the seniors, baking, playing piano, and most
importantly wise words. They would tell me stories about their lives
and I will be amazed every time. I realized how unique most of the
seniors were, world war veterans, teachers, engineers and doctors. I
developed a special bond with most of the residents.
I
took it upon myself to show my community especially the youth how
special seniors are and how we can interact. I thought of many ways
but the best one that I thought would work was to take the seniors to
a nearby elementary school and let them tell stories and read with
children. I collaborated with the nursing home and the elementary
school with my plan. I organised transportation and got the seniors
their favorite children books to read. On the day of the event the
children were excitingly waiting for them and each senior was given a
schedule and assigned three classes. The day ended with smiles on
both the seniors and the children's face. Betty, one the seniors
said she had the best time and most of the seniors were happy.
Volunteerism taught that just little things can mean a lot to
someone. I have a bigger picture that someday I will be able to help
the people I am bound to help back in kenya.
I
received Presidential Volunteer Silver Award from the president for
my two hundred and fifty plus hours of community service. Although I
am no longer in high school, I am still very involved with my
community and I still volunteer at the elementary school where I
also organise cultural day and teach kids about Africa and Kenya. I
plan on getting middle schoolers involved and continuing to build the
bridge.