Name: Zeeta Ezebuogo
From: Garland, Texas
Grade: College Freshman
School: Eastfield College
Votes: 4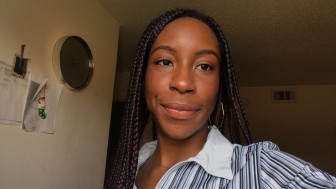 My yearn for goodness in the world began to take form when I started
attending a church not far from home. It was there I discovered the
importance of giving back to my community. It lit my desire to look
beyond myself.
For a little over 2 years now, I have been volunteering at (North
Texas Food Bank). An organization developed to help the homeless of
North Texas gain access to food. Since my church collaborated with
NTFB so their connection made it easier to access volunteer
opportunities. I visit the food bank on the first Saturday of every
month for 3 hours where my duties consist of separating junk food
from healthy food, throwing away food items that may have been broken
or damaged in transit, and sealing boxes with various types of
packaged food. The Foods were mostly processed and canned, so they
would last longer. It was encouraged to donate Non -perishable foods
as they are less likely to cause a health hazard. Their goal is to
provide access to nutritious foods for the homeless, they feed over
170,000 people daily.
It was quite challenging to get people involved in the process. There
were signup sheets passed around to encourage them and a lot of names
were written down but when it came to the day of volunteer work, only
a few people would show. The numbers gradually declined each month
and it go to the point were barely any people showed up, which
unfortunately, didn't display much dedication.

With the team effort of my church and other volunteers, we helped
feed a little over 500 families monthly. In a year, that's 6,000
families fed, and we seek to feed even more. Countless people across
North Texas are getting the nutrition they need because of the NTFB,
and I want to make sure I do everything possible to keep that
tradition going. Seeing the homeless around my community begging for
food breaks my heart and as a youth living in a society where things
have begun to evolve, our voices are being taken more serious now.
I aim to gain knowledge from things I'm involved in and Working
with the NTFB was no different. I learned how beneficial I can be to
the world because no matter how small change may be, it is impactful.
My volunteer work doesn't exactly align with my career goals, but
they are similar considering my desire to facilitate change. Thus, my
goal is to change the perspective towards the less-privileged, so
that they are no longer seen as "unfortunate". Instead people
should be willing to incur change in their lives.
The excitement of great things to come is what I would define as
forward looking, being able so envision ideas that will eventually
lead to success. In a decade or two, I hope to have had a hand in
increased dedication to aid deprived communities.