Name: Maia Murphey
From: Minneapolis, Minnesota
Grade: High School Junior
School: Southwest High School
Votes: 0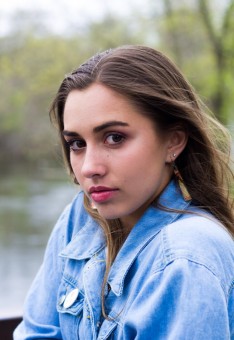 Circle of Friends
My middle school has an exceptional DCD (developmental cognitive
disability) program and it provides services for students who are
handicapped. The program's mission is to assist their students who
are mainstreaming into the same academic level as their peers. In
high school this opportunity is no longer prominently available. The
same classmates from my middle school now take specialized courses
exclusively for students with disabilities. After seeing that these
students aren't integrated into classes, I wanted to help students
with disabilities feel more welcomed by high schoolers.
At my church, members of the youth congregation are involved in a
volunteer activity called Circle of Friends. During the first meeting
of Circle, what members call the program, pairs of high schoolers are
partnered with another student who has a form of a mental or physical
disability. Every Monday night throughout the school year we meet
with our partners for a couple hours. Sessions have different
interactive activities such as tye-dye and mini golf. Our
responsibility at Circle is to welcome our partners from the
perspective of someone who isn't paid to be in their life unlike
their doctors. We provide a friendship that they wouldn't expect.
A common difficulty during Circle is getting partners engaged in the
activity. My partner has autism. The first time I met her she was
quiet and uninterested in the activities. She listened to her
headphones rather than talked to her partners. This was frustrating
at times, but understandable. As the year continued, she stopped
bringing her headphones to Circle and began to open up about her
personal life. Watching her become comfortable around former
strangers and develop communication skills has been the most
satisfactory part about Circle. Through Circle I've learned how
important commitment is. Our partners rely on us. If I don't attend
I'm taking away their trust in our commitment to not only the
program, but to them as well.
The idea of looking forward is acknowledging your goals for the future
and striving for the change that you want to see happen, whether in
your own life or the community. I want to go into the medical field
as an adult, specifically pediatric. I want to help children with the
disabilities I have seen at Circle by conducting research for their
genetic defects as well as fund DCD programs in schools in order to
submerse children with disabilities in a welcoming school
environment. The school systems need to stop isolating children with
mental or physical disabilities.
This experience may not have affected a large population, but my actions
at Circle have made one girl with a mental disability feel special in
a world full of hatred toward her and the community that she belongs
to. I have no doubt that she will remember her experience at Circle
of Friends, the program that has helped her develop mentally and
emotionally. Considering the large amount of people voluntarily
participating in Circle of Friends, many lives have been affected
positively.