Name: Elizabeth Balsiger
From: Cedarburg, Wisconsin
Grade: Senior (12)
School: Cedarburg High School
Votes: 0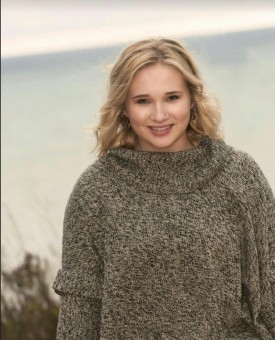 Embracing Joy: The Beauty of Volunteering with Individuals with Disabilities
I have chosen to volunteer with my high school's special education
program and with individuals with special needs in my community.
Initially, I chose to volunteer in our school's special ed. room my
sophomore year because I was very depressed. Making a difference in
the lives of others could help me heal too. I volunteer with the
students an average of three hours a week and twelve hours a month. I
used to volunteer more frequently, but unfortunately, I have become
very ill with multiple chronic illnesses that make it very difficult
to get out of the house. As a special education volunteer, my
responsibilities include working with students on homework,
communication skills, and jobs, helping to teach lessons, and helping
to facilitate group activities. My greatest challenge as a volunteer
is setting boundaries with the other students. An example of this is
that students often ask for hugs, and I would love to give them!
However, it is a class rule that students do not hug. I do not want
to sound mean by denying them a hug, so we choose to high-five
instead. I have gained the most satisfaction out of the friendships I
have formed with my school's special education students during the
time I have been volunteering. The students have taught me to embrace
joy. From my volunteer position, I have learned a lot about my
self-worth and that I am needed in the world.
In college, I plan to major in communications sciences and disorders,
and from there I plan to get my masters in speech-language pathology.
I want to be a speech-language pathologist for children and
adolescents with disabilities. My volunteer work with my school's
special ed. students has shaped my career goals in speech pathology
because I have learned I love assisting in the students'
communication. I think that volunteering with individuals with
special needs is very "forward-looking." To me, "forward-looking" means "innovative" or
"progressive." Working with individuals with disabilities
takes an open mind and a great deal of acceptance. Integrating people
with special needs into our lives may be different, but it is
rewarding. The change I would like to pursue in the world in terms of
my volunteer activities is the inclusion, acceptance, and integration
of people with intellectual and developmental disabilities into our
communities all over the world. People with disabilities deserve to
be treated like everybody else. They should be included in schools,
activities, the workforce, and various other places in our
communities. If I were to look back in a few decades, I would without
a doubt say that my volunteer activities have made a difference. I
have created amazing friendships with each student, and they have
shown me that life is worth living. I know that I have made an impact
in each of the student's lives and that our friendships and memories
will last for years. I have spread joy to these students (almost) as
much as they have spread it to me.