Name: Patrick Flanagan
From: Philadelphia, Pa
Grade: 12th
School: Archbishop Ryan High School
Votes: 0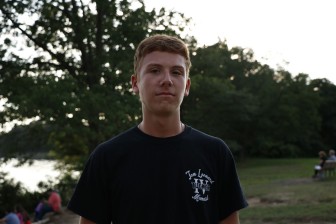 Patrick
Flanagan
Narrative
Essay
October
2, 2017
Community
Service Core
Starting
out in high school I wasn't nearly the student I am today. Going
into 9th grade, I was not sure what I was expecting. I wanted to go
in when I was supposed to, and leave once the bell rang. For awhile
this was the case. A month or so into the year, my theology teacher,
Sister Frances Antoinette, passed around sign up sheets for C.S.C, or
Community Service Core. By the time I had got to my locker, the paper
was in the trash.
After,
8th period I headed to my brothers car to go home. When he got there
we made small talk. Then he told me he's signing up C.S.C. All he
wanted was to get his service hours, he wasn't all to into the idea
of helping out the community, And at this point neither was I. But to
avoid having to take SEPTA home, I signed up as well.
Three
years later I can hardly recall my first meeting. The room was
sweltering, and I was wondering what I had gotten myself into. At
this point, SEPTA wasn't looking so bad.
Weeks
later, having forgot all off this community service mess, I walked to
my brothers' car just like every day. He was already there waiting
for me, which was out of the ordinary. When I got in he told me we
had errands to run with sister today. We sped off to the other side
of the school where sister waited with her purse, and a white
envelope full of donation money.
When
we pulled up, he told me to get in the back, and let Sister sit up
front. Surely this wasn't going to be fun. As we drove to the Aldi
on Street Road, Sister made small talk of the students at our school,
and we got the inside scoop on all of our teachers. We got there and
sister told us to pull up to the front of the supermarket. She got
out, with her envelope, and came back five minutes later, followed by
the manager pushing a cart full of canned goods. For the next hour or
so, I slid bundles of canned vegetables across the bed of the truck
to my brother. Once we filled up the truck we headed over to Aid for
Friends where volunteer workers helped us load all the cans out of
the truck into the warehouse.
Last
part of the mission was to drop Sister off. I was praying to be done
since I got in the car at school. What I didn't anticipate was a
good feeling I got afterwards. It's one thing to donate, but to be
the person who helps put that money into action feels nothing short
of amazing.
I
soon gained a liking for C.S.C, and Sister Francis. I joined the club
in my sophomore year, and by junior year I got my friends to join
too. Now as a senior I am the president of Community Service Core,
and every job I do for sister, No matter how small, I get the same
feeling as I did the first day I helped out. I could never see myself
where I am today, the day I threw out that slip of paper.
When
I think about it, I never really chose C.S.C, and that's what makes
it special for me. It seemed to become a part of my life at this
point. Most weeks for C.S.C all I did was run a bake sale during
lunch, and some weeks I would be working for a few hours after or
before school. To me the time restraint wasn't ever a problem. In
my junior year I began working. I told Sr.Francis that C.S.C would
always hold priority over it, and it never affected my service. I
like to hear how I affected lives by giving my time, This was my
biggest motivation. The smile on somebody's face, the genuine thanks
I received, and the feeling of accomplishment were my biggest
motivation.
Working
with C.S.C, gained a realisation that were all on this planet
together. We all have a duty to serve our neighbors because
everything we do has a direct effect on the environment and community
around us.