Name: Olivia Zimmermann
From: St Charles, Illinois
Grade: senior
School: St. Charles North High School
Votes: 0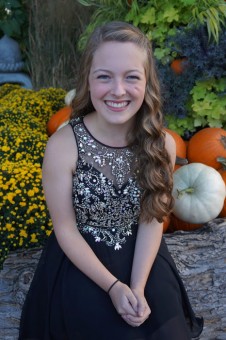 Know the past, Understand the Present, and Impact the Future
By Olivia Zimmermann
When I was just 6 years old, my mom took meI to a 150 year old local
historic homestead in our town called Durant House. When we walked
in we were greeted by a woman in a long dress and bonnet, and we
could see a warm fire crackling behind her in a large fireplace. We
stayed for almost three hours, helping to cut up veggies from the
garden for stew, mixing up ingredients for hoe cakes, and taking
turns making butter at the churn. It was a wonderful afternoon and I
knew I would want to return again.
Fast forward three years and my name came up on the waiting list to become
a junior docent at the Durant House. The lead docent spent months
teaching me about the Durant family, the history of the home, and
many of the tools and items that were used back in the early 1840s.
I dressed up in a long calico dress with an underskirt, an apron, and
a bonnet that allowed my long braids to hang out the bottom. On my
first day, I gave tours of the upstairs children's rooms, showing
visitors (mostly families with young children) flopsy dolls, spinning
wheels, and chamber pots that were used by the family. I loved
answering questions and watching kids' eyes grow wide when they
learned about all of the chores, the challenges, and the courage it
took to survive life back then.
For the past eight years, I have volunteered between 4-6 hours per month,
giving tours of the house and teaching visitors about cooking, parlor
games, laundry, daily chores, and functions of a prairie house. It
is my honor to get to help visitors learn about pioneer times and
develop an understanding of our predecessors as well as a respect for
progress over time. Despite the extreme heat during July afternoons,
it has always been my pleasure to volunteer there. Working as a
docent has not only inspired me to be more inquisitive and interested
in history, but it has also helped me to become more comfortable
speaking and sharing with others. I love teaching and interacting
with visitors who have their own stories to share as they make
connections between pioneer times and their own lives.
"Forward looking" for me is knowing where you came from and where you would
like to go next. For me, volunteering as a docent has helped me value
things from the past, given me confidence to interact and communicate
with almost anyone, and solidified my desire to help others to
develop deeper understandings and connections to the world around
them. The things I have learned in my volunteer work will be of
value to me as I pursue a degree in Communication Sciences and
Disorders. I also believe that the work that I do as a volunteer
docent will be valued and relevant even decades from now because you
have to know the past to understand the present and impact the
future.