Name: Alondra Cruz
From: Salinas, California
Grade: 12
School: Alisal High School
Votes: 0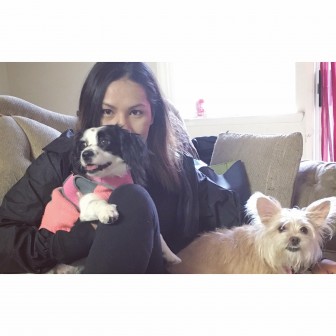 My Love for Animals and Volunteering
I chose to volunteer with animals; ever since I got a dog, I realized
how abstract, unique and wonderful animals were. I also realized how
much protection they need, and how awful they are treated. I want to
fight for animal rights, and volunteering is a great way to start. I
am a volunteer at the SPCA for Monterey County in the cats and dogs
section. I volunteer Saturdays and Sundays; I make seven hours a day
which totals to fourteen hours a week. My responsibilities as a
volunteer are: clean dog condos, sign-in dogs in the walking log,
walk dogs before 11am, make sure dogs and cats have water and food,
play with cats and dogs, answer visitors' questions, clean up after
animals, wash animals' dishes and take care of laundry. Volunteers
are useful from 8:30am to 11:00 am because it is when the cleaning
takes place. After eleven in the morning, most of the volunteers
leave. The biggest challenge as a volunteer is that there is not
enough that we can do. We can answer questions, play with animals,
but it eventually gets boring. Other volunteers usually keep to
themselves, so making friends is also complicated. The biggest
satisfaction that I get when volunteering is seeing animals get
adopted into nice families. What I have learned from volunteering
with animals, and helping visitors is that a smile and positive
attitude can get you through a lot. I am going to start attending
university in the fall, but my desired major has nothing to do with
animal care. I want to study architecture and make a change in the
architecture career as well as make a difference with animals rights.
Looking towards the future, I do see my activities as "forward
looking." To me, "forward looking" is doing things based on the
impact that they are going to have on your future. The change that I
want to make based on my volunteer activities is to make people more
aware that animals deserve rights and have feelings. If I were to
come back in twenty years, I would see my volunteer actions as
actually having an impact. Maybe the impact won't be big, but it
will be something as simple as people taking animals' feelings more
into consideration. Volunteering at the SPCA has been the most I have
gotten involved into something out of my comfort zone. I will
definitely continue to volunteer in the future.