Name: Kailee Sharpe
From: Germantown, TN
Grade: 12
School: Houston High School
Votes: 0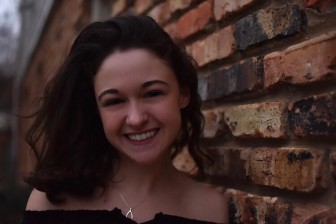 As
author Isaac Asimov once said, "It is the writer who might catch
the imagination of young people and plant a seed that will flower and
come to fruition." As a child I escaped into a thousand different
worlds through books, and I felt that the authors were personally
entrusting me with their gems of insight. The words of these authors
shaped me as a person and taught me the power a writer has to
influence others. I now aspire to pursue writing as a career and to
plant my own seed of inspiration to "flower and come to fruition."
My
passion for writing evolved into a desire to promote it, and
coincidentally I found an opportunity to do so. Upon recently
talking with one of my former elementary school teachers, I was
disturbed to discover that not only has the state writing curriculum
in Tennessee changed, but it has excluded creative writing entirely.
My former teacher explained that the language arts standards limit
her students to rigidly structured and formula based expository
writing. This information was disheartening. Among of my fondest
memories of grade school is being able to express myself through
writing, and now students are denied the same opportunity.
Introducing students to the creative aspect of writing also provides
them with genuine appreciation for the skill, and this established
interest helps them to develop technical writing skills later in
their education. I was compelled to act on what I considered to be a
significant issue, so I gained the approval of my aforementioned
teacher to host sessions of creative writing workshops at the
elementary school.
In
the early fall I began visiting classes of 4th and 5th grade students
weekly with a series of introductory, interactive presentations. The
students immediately responded with great enthusiasm, and I found the
balance between incorporating valuable knowledge while still granting
the students creative license. The lessons cover a variety of
subjects from rhetorical devices to how to write a haiku. As the
weeks continue in this ongoing project, the students have grown
remarkably as writers, and I have grown as a leader and in my ability
to take initiative. More importantly, I have recognized the value of
promoting change in the lives of others. I earned the support of
several teachers at the elementary school, and my hope is that they
will continue my efforts with future students after I bring an end to
the project.
Having
witnessed the universal power of creativity through my experiences, I
believe it is a unifying force in our world. Creativity connects
people beyond the arts, drives the world's innovation, and makes
the evolution of humanity possible. This belief has inspired me to
defend and remain dedicated to my creative pursuits, because it feels
like a way to better myself and the world. The great authors before
me inspire me everyday to keep writing, and I hope one day I am given
a platform to do the same for future generations.