Name: Shaeloren Deering
From: Atlanta, Georgia
Grade: College Freshman
School: Spelman College
Votes: 213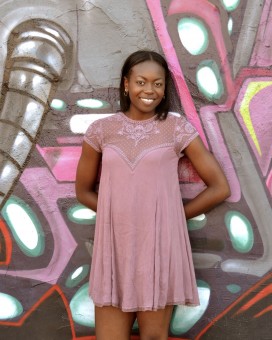 Shaeloren
Deering
Youth
Forward 2018 Scholarship
7 February 2018
Providing equal opportunity among youth
During my first year at Spelman College, I was provided with the opportunity to
volunteer as a tutor and mentor at Friendship Baptist Church in
Atlanta, Georgia. I tutored at Friendship Baptist Church every
Tuesday for two hours, and had the opportunity to build relationships
with students from the West End community. I was thrilled to partake
in volunteering as a tutor at Friendship Baptist Church because of
Spelman's shared history with the church, the opportunity the
program provided me with to help students with behavioral issues or
academic deficiencies, and the opportunity it provided to give back
to the West End.
Growing up, I always enjoyed giving back to the community and helping others,
but with age I have gained a new understanding of the importance of
giving back. Due to gentrification in areas such as the West-End
community, students are stripped of adequate education, educational
luxuries, and college preparatory opportunities. As a result,
students living in these communities are significantly behind and
often not expected to graduate high school. In the documentary,Teach
Us All, the inequalities of today's education are discussed. It is
mentioned that the United States deliberately and systematically
spends less money to educate poor children than affluent children. I
want to do everything in my power to truly impact the lives of
minority students in urban communities. Without education many
minority students are destined for jail or poverty.
While tutoring at Friendship, I felt that I was making a difference in the
lives of my students. On the first day, I instantly noticed the
behavioral issues, shyness, and lack of confidence among the
students. As the program progressed, I gained satisfaction in
witnessing the enthusiasm, confidence, and work ethics of my students
improve. The most challenging part of my tutoring experience was
saying goodbye to the students I bonded with during first semester. I
grew accustomed to spending Tuesday afternoons with them, and valued
the memories we created. I really enjoyed connecting with my
students, and plan to continue volunteering until I graduate.

       While volunteering, I gained knowledge on the importance of believing in
and investing time in youth. Through their change in confidence,
worth ethic, and attitude my students proved to me that they did not
lack knowledge, but rather that society has simply failed them.
Gentrification has failed them, and they need dedicated individuals
that care about making a difference to invest in them. Looking toward
the future, I plan to continue to volunteer in order to help change
the atrocities within education system. Through my voluntarism, I
hope to help create a better educational experience for minority
students by dedicating my time and believing in their success. In the
future, I hope to become a surgeon, and use my career success to fund
a non-profit that aims to prepare minority students for higher
education. I know that my volunteer work will have "made a
difference" in the future because I have encouraged young students
to try their best, work hard, and set goals. Children are the future,
and I witnessed the impact I had on my students with the little time
I spent with them and continue to spend with them every Tuesday.