Name: Addison Provost
From: springville, Utah
Grade: 12
School: Springville High School
Votes: 2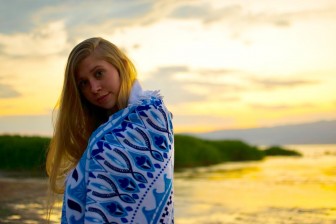 This October, I organized a Hurricane Benefit concert. It was one of the
hardest, strenuous, and most rewarding activities I've done.
During the week of auditions for Cinderella (our school musical this year),
Ms. Hernandez, my U.S. Government teacher, displayed photos of the
devastation left by Hurricane Harvey. I was sitting in my class
holding back tears.

I had known about the hurricane, I had seen it on the news, but all
of the sudden it was in my classroom. She was showing us pictures of
high schools that had been flooded and one of the photos was of an
auditorium. This was just a of couple states over from me, people
were losing everything.I
needed to do something.
The next thing I knew I was emailing bands. I had never dealt with so
much red tape in my life. I sat through Parks and Recreation
meetings, phone calls about the length and depth of the stage, and
excruciating email chains. No matter how badly people wanted to help,
governmental request forms seemed to be against me.
I ended up getting some popular bands. I began advertising, I even
managed to get the colleges near by to advertise to their students. I
was convinced that the concert was going to easily raise our goal of
$10,000. In total the whole process took me almost three months and
over 100 hours just to secure a venue and a band.
Eventually the day of the concert arrived. I walked out to introduce the first
band and was shocked to see… 40 people. We had advertised and
advertised and only 40 kids had shown up. The concert ended and we
had only raised about $400. I went home feeling defeated.
During the concert, the band's lead singer sung a song entitled "Hey
Love." It's a song about one of their good friends who had taken
his own life. When performing the song he began to tear up. He talked
about his own experiences with depression and his friends battle. He
ended telling all of us that we are worth it. That life is worth it.
The next day, my best friend, who is on hope squad, called me in tears.
She informed me that there had been a boy who had been battling
depression. He felt hopeless and he had come to her in a last attempt
to find help. After a month of trying to reason with him, he had
decided he was going to take his own life. She asked him to at least
come to the concert. The night he had planned to take his life
happened to be the night of the concert. At the concert the singer's
words had filled him with hope. He is alive and well and pursuing
medical help.
I had started off with the intention to raise thousands of dollars. I
was convinced somehow God intended for me to single handedly END
suffering through the flowing donations of loving citizens of a rural
small town in Utah. It never occurred to me that in my trek to save
thousands God wanted to save one. I am so grateful for this
experience, I worked harder on this project then I have on any other
project I've done. Even though my attempts didn't end up helping
the group of people I so badly wanted to send aid to, I ended up
reaching someone who needed help even more. I'm so grateful for
this example to me and that he is still alive and well today.