Name: Madeline Butts
From: Manitou Springs, Colorado
Grade: 12
School: Manitou Springs High School
Votes: 0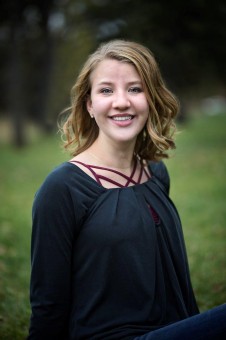 As
an active member in my school and community, I try to emulate the
values that I hold most dear, respect and kindness, in my volunteer
work. Through different clubs and organizations, I have been lucky
enough to volunteer with many people who share my passions and want
to do good in the world for everyone. Community service is a family
value and something I participate in when possible.
I
helped clean up the creeks of Green Mountain Falls after several
devastating floods caused by the 2012 Waldo Canyon Fire. We helped
clear the creek's
path of branches, debris, and trash swept down the river.
In
middle school, I volunteered with Cheyenne Mountain Zoo's
"Zoo Crew" to educate the community on the effects we have on our
environment and how to minimize their "footprint". This included
both one-on-one interactions and group lecture settings.
As
an environmentalist, I try to respect the earth by volunteering my
time to clean up the environment and educate others on how they can
help. This work has helped to spark my interest in biology, and I
intend to focus my career on reducing our impact on the earth around
us.
As
a representative in Manitou's
Student Council, I helped put on our Drive Smart campaign for the
last four years. We made great strides in educating the student body
on safe driving.
Currently,
I am a member of GSTA. We have teamed up with Urban Peak to raise
money for homeless shelters with an emphasis on creating safe spaces
for homeless youth to live. Fellow classmates and I spent the night
outside in nothing but sleeping bags in the freezing weather to raise
awareness and money for Urban Peak's
efforts. The challenge was to then go to school to simulate the
challenges faced by homeless youth every day.
I
worked with Concrete Couch to create public
art, tiling benches and walls, making murals and playgrounds,
focusing on creating a passion for public service through our
projects.
Being
the only diver for two years, I wanted to practice with the rest of
the swim team but there was no diving board at the our pool. So, I
worked with my coach and school to write a grant proposal for a new
diving board to be installed. Now, the diving board serves the
patrons of the Manitou Springs Pool as well as future divers.
Throughout
my life, I hope to make a positive, lasting impact on the world
around me by emulating my two core values: kindness and respect in my
work. Whether it be building community through art, cleaning up the
environment, or educating others, I will continue to strive to serve
others through my volunteer work. Every
kid I work with could be inspired to drive smarter. The work with
Urban Peak could give shelter to someone in need. The greatest
satisfaction I get from my volunteer work is purpose. I seek to
improve the lives of my community members and schoolmates.