Name: Lydia M Joyner
From: Columbia, South Carolina
Grade: Senior
School: Dutch Fork High School
Votes: 51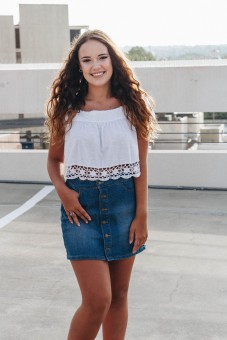 Growth and development of a single person is defined just as significantly
by his/her beneficence to others, as it is to improving themselves.
Through a volunteer opportunity offered to me these past years, I
have been able to make meaningful contributions among over forty
girls' lives, not only as dancers, but as human beings.
At my childhood dance studio, Dance World, I have assisted in four
different jazz and tap classes for girls ages seven to eleven.
Commemorating on my journey at the fourteenth and final year, I
recalled previous teacher assistants who worked with me and their
impact on my learning process. I always wanted to continue that
satisfactory feeling and someday create the same for another little
girl.
Reflecting on this process, I have faced a few prevalent challenges. Each
individual retains information at a different pace; thus, some
dancers perfecting a move at first try while others requiring more
assistance. I learned to think creatively in composing ways to
describe a move when a girl is not understanding it. If I can
encourage a dancer to compare something she is comfortable with to
this tricky movement, it often assuages her frustration and opens her
mind. I have been faced with the task of doing so in a timely
manner, but have improved on it tremendously through analytic
thinking.
Despite several challenges with assisting, the rewards far surpass the minor
difficulties. Now referred to as "Miss Lydia," my class sees me
around the studio, in public, at competitions, and even at my place
of employment and greets me with big smiles and hugs. This proves
that my job consists of much more than showing up to class forty-five
minutes a week to assist, but to become their friend and role model
at the dance studio. One of the best rewards is working with a young
dancer and watching her properly complete a move for the first time.
Her face lights up and it is evident that confidence is gained in
that very moment. This reaction is gratifying, and I know that I
have contributed to furthering a dancer's development.
In many instances, society holds us to the same standard in that we
should all be capable of learning in the same way. Although this is
heavily regarded in both dance and education, among all aspects of
life, we should value this unique trait each individual possesses.
Looking forward, I am going to take this knowledge and apply it to
meeting new people, furthering acceptance and cooperation.

           Assisting allows me to look beyond my needs and focus on those of others. I
enter the dance room every week September to May, knowing these girls
turn to me for guidance. It would be phenomenal to return to this
family atmosphere years from now knowing I made a difference in
regards to someone's learning development. My goal is to provide
these growing dancers with yet another learning tool, with the intent
of nothing but bettering their successes.