Name: Amber Massa
From: New Lenox, Illinois
Grade: High School Senior
School: Lincoln Way Central High School
Votes: 0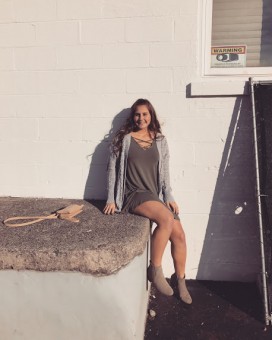 Amber Massa
High School Senior
The Joys of Volunteering
My name is Amber Massa and I am a high school senior at Lincoln Way Central in
Illinois. My most meaningful volunteer opportunity I have been a part
of is the Ronald McDonald House. It is a huge house with 17 rooms.
Families who have sick children are eligible to live there in order
to be close to their children who are living at the hospital. To stay
at the house they are charged very little, get free meals, their own
bedroom and bathroom, cleaning service around the house, and many
more benefits. I applied to be on the Teen Advisory Board there and
was accepted. While on the board, I am required to attend monthly
meetings and complete a four hour shift once a month. Most months, I
complete a total of seven hours helping out. During the meetings, we
plan holiday activities for the children living at the house, think
of ways to improve the house, create baskets to raffle off at
activities, and enjoy the company of others who are on the board.
During our shifts at the house, we are busy for the full four hours.
From doing laundry, to stocking the supply closets, to cooking the
meals for the families, to cleaning every inch of the house, even
taking inventory of the food pantries. There is always something to
get done to help improve the house. One of the biggest challenges I
face at the house is cleaning the place. I try to be very clean and
healthy all the time. Going to the house and vacuuming, dusting,
sweeping, and sanitizing does not help with my idea of staying clean.
I feel very dirty coming from the house, but the important thing is
the house is clean. Families around sick children have to be cautious
so they do not give the children a bacterial infection. Making sure
these families have a clean place to live helps me get over the fact
that I am a total "germaphobe". It is very satisfying knowing
that I am making a positive influence in these families difficult
lives. I can not even imagine what they are going through. Whether it
is bringing new sheets to their rooms or preparing a whole dinner for
them, it gives me joy I am able to help them out even the slightest
bit. All in all, I have learned to always be thankful for what I
have. I have always had a roof above my head and food on my plate. I
feel so blessed and I take that for granted sometimes. This positive
experience has opened my eyes and helped me become more appreciative
towards everything. I now live every moment like it is my last and
cherish all the people and memories I come across. Thank you Ronald
McDonald House for changing my outlook on life.