Name: Lucy Murrow
From: Ozark, MO
Grade: 12
School: Ozark High School
Votes: 63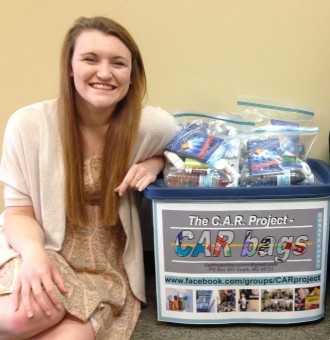 Using My Skills to Help Others
Throughout high school I spent approximately 10 hours per week doing volunteer
work through the National Honor Society, my local church, school, and
on my own. My volunteer work has given me the opportunity to impact
people in the areas of literacy, childcare, cancer research, first
responder support, entertainment, and tutoring.
My grandfather worked at a homeless shelter. He shared stories with my
brother and me about guests at the shelter. It opened our eyes to the
reality of homelessness. In 2015 my brother launched an outreach
program to help the homeless. I quickly jumped on board and became
the co coordinator of the C.A.R. Project (Caring and Ready). This
was the most rewarding experience of my life. We provided bags of
hygiene products, food, and water. Volunteers kept bags in their
cars, ready to give to homeless people they encountered on the
streets. My job as co coordinator was to gather donations, enlist
helpers to fill bags, and give them to volunteers. The most difficult
part of my job was getting donations. Several people were willing to
hand out C.A.R. bags, but not as many were willing to donate items
for the bags.
Although I loved being a coordinator, actually handing a bag to a person in
need was the most rewarding part. This experience made me very aware
of the fortunate life I have. I never want to take it for granted.
As a child I was an artist and an entrepreneur in training. I loved
creating, painting, and taking pictures. I always tried to earn money
by making art projects that I would sell to family members, friends,
and neighbors. It never occurred to me that there were hungry people
in the world or that I could help them by using my skills and the
money I earned. That is something I learned in more recent years.
My love for fine arts and entrepreneurship never left me. That is why I
have chosen to pursue a Bachelor of Arts Degree in Advertising and
Graphic Design. Ultimately I want to own my own photography and
graphic design company. I am looking forward to using my skills and
resources to help others. One possible way I could help is by
designing pamphlets and brochures for outreach groups, charities, and
nonprofit organizations. I hope to use my photography and design
skills to bring awareness to needs in the world through photographs.
Already I have used my skills to help design a logo for the C.A.R. Project.
It is exciting to think of what I will be able to do after receiving
graphic design training in college. I hope years from now people will
still be giving out bags to the homeless or reading pamphlets and
brochures that I made with information on how to get involved in an
outreach program. I may be just one person, but I can make a
difference in the lives of thousands of people by using my skills.