Name: Kirsti DeBenedetto
From: Oconomowoc, WI
Grade: 12th Grade
School: University of Wisconsin Whitewater
Votes: 0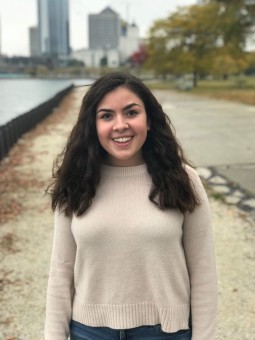 Throughout my life I have
always loved helping people. At my school I partake in four honors
societies. I chose these honor societies because it allows me be a
part of something bigger and rewarding by helping others. Each
society requires a certain amount of service hours to help others in
need!
One thing that one of my
honors society focuses on is giving to the food pantry. After doing
this for a few years now, it inspired me to get a group of friends
together to take things further and form our own food drive.
We decided it would be a neat
idea to have a food drive at an elementary school. We did this with
the intention that the class that brings in the most items received a
pizza party! This encouraged the kids to tell their parents that they
needed to bring in non perishable food items. Our group had to juggle
many tasks such as, flyers, thank you cards, and communication. Due
to the overwhelming response, we had to make several trips to the
school so that it was not overwhelming for the pantry.
A part of this process that we
found challenging was that we had to work around our school hours and
the hours of the pantry. With this minor set back and dedicating over
6 hours a week to this project, we managed to collect over 3,000
items of food for the local food pantry.
Our intention from this
project's success is that future students will continue this. This
was a big task that made sure people are being helped that are in
need. This experience took me by surprise and gave me a new
appreciation for people in need.
Forward looking to me in this
process is to help accommodate for others and how it will affect
their future. There will always be families in need of food, this is
what we can do to help minimize the number of hungry people. Food
drives, or donating food is very forward looking because it helps
families in need of food.
This food drive, encouraged
me to come about the other food drive we do, 'Trick or Treat so
kids can eat!' in a whole different way. This project is when our
society goes trick or treating asking for food rather than candy.
Although it is something we may not want to do on an October night,
our feet may hurt and it's cold, it's one day out of 365 days a
year to help a family in need.
I was overcome by an
incredible sense of pride when we started loading all of the food
into the food pantry. At that moment we all looked at each other and
had the amazing realization that we did it. Knowing we were able to
donate 3000 food items and help all those families in need. All of
our hard work was worth it and would do it all over again!