Name: Nicole Bravo
From: PORT ST LUCIE, FL
Grade: 12
School: Lincoln Park Academy
Votes: 0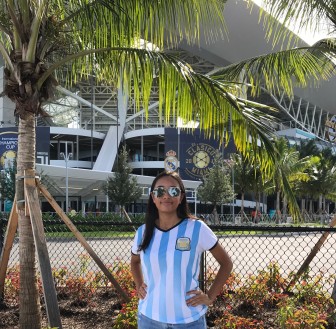 Nicole
Bravo

Volunteering in the Emergency Department
I have chosen to volunteer in the healthcare field because of my
interest in nursing. I began to volunteer in the emergency department
of my local hospital June of 2017 and have worked once a week in four
hour shifts ever since, accumulating about 100 hours so far. As a
volunteer, I am there to make the patient's stay the best possible.
I comfort them by providing anything they need as simple as a
blanket, a drink, or a pillow. Aside from the patients, my position
as a volunteer is to aid the nurses in the emergency department. My
partner and I would restock the cabinets with linens and medical
supplies. Sometimes the emergency department would get very busy and
nurses would have their hands full. I would sometimes get stopped by
a nurse and asked if I could bring something to a patient in room
so-and-so. I have not really faced any challenges as a volunteer. The
most satisfaction I have received as a volunteer has been when
patients would thank me for anything I did for them. When
volunteering, I would stop to make sure a patient is comfortable and
if I could get them anything. On several occasions, the patient or
their visitors would thank me for my volunteerism. Not just the
patients; moreover, I have gotten nurses come up to me and thank me
for being around and helping when possible. I greatly appreciate
those comments from the patients and nurses. Working in the emergency
department of the hospital, I have learned and seen many things.
Witnessing the teamwork from the nurses' is incredible and I have
gained even more respect for nurses. One thing that I learned from my
most recent volunteer shift, is that you cannot always satisfy the
patients. I had a conversation with some nurses where they told me
they sometimes have patients that will keep coming back simply for
drugs when they are not necessarily even needed, at least yet. Then
they would complain that they could get those drugs at a different
hospital.
The anatomy and physiology of the human body has always intrigued me
which led to my desire to become a nurse. Landing this volunteer
position in the emergency department definitely aligns with my career
goals. Watching patients come in and out and nurses working together
to take care of patients is a unique and great experience. Looking
forward, I can see myself in those nurses' positions. By "forward
looking" I can picture myself a couple years from now being part of
a team of nurses and to aid patients back to health. I do believe
this volunteer position impacted me. Before this volunteering
position, I simply had the thought and desire to become a nurse but
after actually being exposed to that world, I can confirm that this
profession peaks my desires. There is room to gain knowledge and to
help those in need which I love.