Name: Jaelyn C. Young
From: St. Paul, Minnesota
Grade: 12
School: Central High School
Votes: 0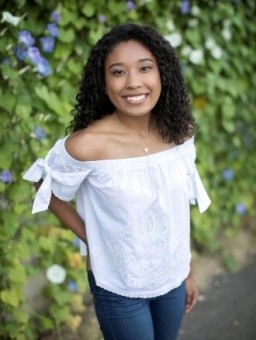 The
area in which I have chosen to volunteer is with animals. I
volunteer about 6 hours a month at the Animal Humane Society. I
chose this because of my passion toward dogs. I have two dogs of my
own, one a white fluffy bichon who we bought from a breeder and the
other is a pit bull who we adopted from a rescue. It was because of
rescuing our pit that I decided I wanted to do more and advocate for
animals.
For
the past two years I have been volunteering at the Animal Humane
Society where my role is with dog adoption support. It is my
responsibility for taking care of the dogs on the adoption floor and
to help them find their forever homes. My main role is to try to fit
the perfect dog with the perfect loving family. When I am not on dog
adoption, I often will pick up a short shift and walk dogs or clean
out their cages. I want to do all I can to make these dogs feel
loved and let them know they are not alone. I have met and loved
many dogs during my time as a volunteer so far, whether they are
perfectly healthy and happy or in need of some help, love and
support. The biggest challenge as a volunteer, is watching as a
sick, neglected or emaciated dog comes into the shelter. It is
extremely difficult to see that a dog was treated in a horrific
manner. During my volunteer shifts, I sometimes work closely with
the veterinary staff at the shelter. I became intrigued by the way
they can help an animal who is in need. Sometimes I would help
diagnose a dog with the veterinary staff, just to see if my
assessment was close to the veterinarians. Having a correct
assessment or seeing a dog get adopted from the shelter is the most
satisfying for me.
My
involvement with the Animal Humane Society gave me a direction as to
what I may want to study in college and what I may want to do as a
potential career. Along with my love for animals, I also have a
great interest in biological sciences and my volunteer experiences
only amplified that. Together with my interest in biology and my
love for animals, volunteering has given me a vision of how I want to
contribute to the world. I want to be able to care for any animal,
emotionally and physically so they can live a wholesome life.

Looking forward, ten, twenty
or even thirty years, I feel that my work volunteering would have
made me a better, compassionate and loving person. I will feel that
I helped contribute to the community. No animal should live in a
shelter, alone and scared. I would hope that my time volunteering
wouldn't have been for nothing. There will always be a need for
volunteers in a shelter as the population of dogs and animals in
general continue to rise. I want to take what I have learned and
turn it into something good and a potential career that I can be
proud of.