Name: Khayla Coleman-Smith
From: philadelphia, PA
Grade: freshman
School: Lincoln University
Votes: 0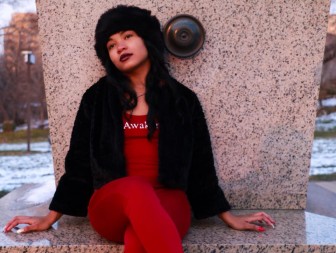 Walking Pink 365
My name is Khayla and I'm obsessed with cancer. At an early age, I've
been affected by cancer in some form or fashion. My Pop Pop died of
prostate cancer when I was one. Since that time, I've lost other
family members and have many people in my life who are survivors and
many who are still fighting. My cousin, Angie died of lung cancer, my
Aunt Paula died of Breast Cancer and most recently, my 23year old
cousin, Allena died of Cervical Cancer. I am still devastated. My
Aunt Kim is fighting breast cancer as we speak.
Several years ago, Police Officer Jackie Little took me to the Susan G.
Koeman Breast Cancer walk. That one moment had a powerful impact on
me. At the end of the walk, family & friends gathered with those
who braved that journey, and they all raised their shoes in the air.
I later learned that my mentor, Officer Little was also a survivor.
That was the defining moment for me. I wanted to make a difference in
the lives of those who were affected by cancer.
My art teacher, Ms. Pandolfi, had us do a project in school. We had to
take an old shoe & decorate it…..I made mine in honor of breast
cancer. I named my shoe SUPERWOMAN. It was on display at the
University of Arts. It was then that I was inspired to do this
project, Walking Pink 365. But we are not walking, marching or
running. Walking Pink addresses not only breast cancer, but all forms
of cancers.
Cancer is not just one disease, but a large group of almost 100 diseases.
Its two main characteristics are uncontrolled growth of the cells in
the human body and the ability of these cells to migrate from the
original site and spread. If the spread is not controlled, cancer can
result in death.
One out of every four deaths in the United States is from cancer. It is
second only to heart disease.. About 1.2 million Americans are
diagnosed with cancer annually; more than 500,000 die annually.
Cancer can attack anyone. The most common cancers are skin cancer,
lung cancer, colon cancer, breast cancer (in women), and prostate
cancer (in men). In addition, cancer of the kidneys, ovaries, uterus,
pancreas, bladder, rectum, and blood and lymph node cancer (leukemias
and lymphomas) are also included among the 12 major cancers that
affect most Americans.
I decided to volunteer my time to raising cancer awareness. Therefore I
created & designed an entire event , a creative & artistic
way to honor a loved one lost, surviving or continuing to fight all
forms of cancer by recreating, designing & decorating a used
shoe, mounting, naming, then dedicating a beautiful work of art to
that special someone. It is designed to offer encouragement, support
and an outlet of creative expression. The event includes a walking
colors fashion show; Youth model self made outfits representing a
specific form of cancer. They research and give the audience
information on that form of cancer, which educates our youth and
encourages and develops public speaking. It also includes resource
tables, testimonies, dance ministry and a shoe exhibit where all of
the shoes are placed on display and dedicated to that special loved
one.
To date, we have held over 10 Walking Pink 365 events, in the tri state
area, including annual events in Philadelphia and Chester, Pa., at
community centers and Senior Facilities. It is a youth ran, family
oriented program that provides time for families to create and work
together and for youth to spend with the seniors and bridge the gap.
It requires a lot of time, work and planning, used shoe drives &
donations of recycled household trinkets, jewelry and other items to
adorn a shoe; Donation request letters, donation collections, and
inventory management. I had a vision and I had to oversee the
project from beginning to end. I designed my own logo and event
flyers, I choreograph dance routines, help design outfits and give
testimony about my personal trauma with this dreaded disease. I am
always jotting down new ideas, thinking of how it can be better the
next time. It is a constant work in progress and I have dedicated
long hours and days, sometimes weeks, prior to an event. We host at
least 4 events each year for the past 3 years and raised money
towards assisting families and the fight for a cure.
Because there are so many cancer awareness initiatives, my biggest challenge
has been to constantly come up with creative new ways to get the
message across, to entertain and educate the audience; to secure
funding for the events and now that I am in my 1st
year of college, time is scarce. So I have to rely on others like my
mom and the other youth in the program to take on a lot of the
responsibilities. But Walking Pink 365 is still my baby and my goal
is to host an event at my college this year.
I've learned that while cancer does not discriminate, more people of color
are at a higher risk due to lack of proper healthcare. Early
detection is key. Cancer is taking a toll on our community. But we
must continue to pray, and have hope and continue to fight for a
cure.
My greatest satisfaction is seeing families and communities working
together for a common goal, creating my own shoes in honor of my own
family members, and most of all dancing in their honor. It is my hope
& intention to bring comfort & encouragement to those
affected by cancer and to raise awareness, by advocating for
healthier living & eating, proper health care, regular checkups
and the will to live 365 days a year and not just one month.
I would love to see Walking Pink 365 grow even bigger. It has helped
heal and bring together families affected by cancer. It has raised
community awareness. Forward Looking …. we will someday find a
cure. Ten years from now, we will still be able to honor our loved
ones through the shoes we created and our tireless effort to find a
cure. Victory is on the horizon!
khayla Coleman-Smith