Name: Ivan Sean D'Souza
From: Willow Grove, PA
Grade: 12th Grade
School: Upper Moreland High School
Votes: 0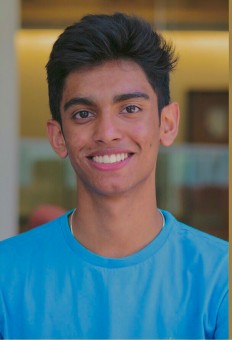 Ivan D'Souza
Upper Moreland High School
Senior,
Age 18
Yes Way
No way. There was no way I was selected to lead the Festival Youth
Committee. It would be my responsibility to organize and allocate
people, money, and coordinate events. It would be my responsibility
to learn macromanagement and micromanagement, coordinate with the
other subcommittees, and ultimately report to the Executive Board.
The Philadelphia Ganesh Festival is the second largest gathering of
Hindus in the Western Hemisphere with an annual attendance of
5000-10000 devotees. A 10-day long cultural event at my local Hindu
temple, I had been attending and volunteering for years. As a devout
Catholic, I felt out of place occasionally, but I learned with time
that Hinduism is closely tied to my Indian heritage. Afterall, my mom
was a convert from the highest caste of Hinduism to Roman
Catholicism. This played a major role in my appreciation for being
granted the leadership position. They selected me regardless of my
religion, and I made sure to repay the favor by dedicating all my
effort to their cause.
The pre-festival preparation itself took nearly 15 hours in the summer.
The festival was to start late August and end on September 4th.
Dealing with the parents of the over 140 youth members was easily the
most challenging part of my role. It never occurred to me how
demanding people could be and, frankly, this aspect of being the lead
terrified me. Thankfully, I had three mentors guiding me through the
way. They were all previous leads and better yet, they were adults! I
was only seventeen at the time I assumed the position so I was
treading in uncharted territory. Thankfully, with their help, I led
with more confidence and could cater to the needs of every parent.
As the inaugural first day approached quickly, an orientation with the
youth group was necessary. To get maximum participation, the youth
committee (YComm for short) had a tradition of making the kickoff
meeting a picnic. After the picnic, YComm was ready to assist the
other committees of the festival in an organized and respectful
fashion. Because I was also involved in other committees, I was
practically in two places at once throughout the festival. I became a
pro at reallocating volunteers if another fell sick. I racked up
nearly 100 hours of volunteer work in those 10 days because I would
spend entire days at the temple and head over there immediately after
school ended. Serving those devotees and playing a key role in the
smooth execution of such a large event fulfilled me with a sense of
gratitude and I felt like an adult. This year was the first well
managed YComm, and the Executive Board plans to maintain this
subcommittee for future festivals. I had made a real difference. Yes
way.
I plan on continuing helping others by pursuing my dream of being a
neurosurgeon in the future. Service to others always exceeds
selfishness.