Name: Sydney Busch
From: Scottsdale, Arizona
Grade: 12
School: Horizon High School
Votes: 0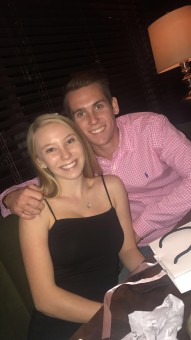 Freshman year my mom said to me, "New year, new school, so you need to get
involved". She suggested a community service club, which would look
great on my college applications. My initial plan upon joining Key
Club was to volunteer only those hours required for membership.
However, I soon realized that the concept of helping others was both
enriching to me as well as benefiting the community if I did more
than just the bare minimum.
I began to volunteer outside of the club. I approached my elementary
school teachers to see if they could use some help. Their responses
were a definite YES! Once a week I sorted books, graded papers, and
organized worksheets. Next I added volunteering at Mcdowell Mountain
Festival, St. Mary's Food Bank and every Sunday morning, I assist
with the children's daycare at my church. After volunteering fifteen
hours a month, it became clear to me that there were so many
opportunities to help others, my only constraint was time.
Through these volunteer activities, I discovered a love for helping children,
so I expanded my volunteer work to Feed My Starving Children, a
nonprofit organization that coordinates
packaging and distribution of food to people in need in developing
nations. The first time I volunteered at this organization, they
shared a slideshow of the children. The first picture shown was of a
starving, emaciated child. The second picture shown was of the same
boy, but healthy. After months of this child eating FMSC meals, he
gained weight and was getting the nutrition he needed to survive. I
felt pure happiness knowing kids truly benefit from the meals we
prepared.
In addition to my individual volunteer time, I enlisted my family to
volunteer monthly for two back to back packing sessions. With seven
pairs of hands to help, we were able to pack numerous meals. All my
favorite volunteer memories have come from this organization. Groups
of 4-6 volunteers compete against other groups to package boxes of
nutritious foods. This process makes volunteering even more
enjoyable. Despite the camaraderie and good will that comes from
volunteering, my biggest challenge has been to convince others to
volunteer. Many people feel that they are too busy or others express
a lack of interest in helping others. My goal is to persuade
individuals to give it a try. The positive energy one gets from
volunteering is usually contagious, so one try is all it takes.
While I began to volunteer to check the box for Key Club, four years later,
community service has become a huge part of my life. Community
service has even affected my career choice. I changed my career path
from an interior designer to a pediatric nurse because I discovered I
love helping children. I plan to continue volunteering throughout
college. In ten, twenty, or even thirty years my volunteer activities
will have made a difference because the children who were starving
would now be healthy and may have the opportunity to attend college.