Name: Peyton Lehman
From: Moorhead, Minnesota
Grade: Freshman
School: Concordia College
Votes: 123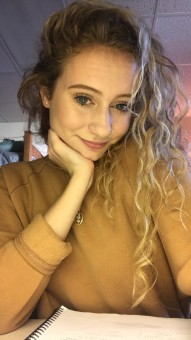 A
Life Changing Accident
By:
Peyton Lehman

The
first day of my new job. I didn't know how to feel. Should I be
nervous? Excited? I've never had an experience quite like this.
Taking a deep breath, I hesitantly pushed open the creaky door that
led into my new client's home. Immediately, the sound of an
electric wheelchair rang in my ears – and there he was. A
quadriplegic man in his early 20s, covered with a blanket and fully
supported by metal rests perfectly sized for his arms and legs. This
day changed my life; my perspective on the topic of driver safety was
completely altered as this man opened up to me and shared the story
of vehicular injuries and a devastating car accident. Since the car
he was riding passenger in had swerved off the road and flipped
upside down, his life has been a jumble of hospital rooms and a
variety of caretakers. He once had a dream of becoming a college
hockey player out of state, but now he is forced to reside at home
with someone watching over him for the rest of his life. This is just
one story out of billions that have affected those in America,
however this one has touched me deeply. As a result, I have become
someone who is fully aware of the drastic changes of one's life
that can arise from a simple driving mistake. This could happen to
anyone, and it is crucial that awareness is spread in order to halt
the epidemic of driver injuries and deaths.
Driver
education is something that must be improved in order to increase
driver safety in America. Countless accidents are caused by drivers
being unsure of what to do in certain situations, and although this
seems simple, it is much too common. With the spread of driver
education, preventable accidents can be reduced drastically. When I
finished my driver's education class, I was shocked by how easy the
test was. In fact, I made a variety of mistakes during my
behind-the-wheel exam, and the instructor still passed me. Although I
turned into the wrong lane and drove on the wrong side of the line,
he still somehow believed that I was okay to be out on the road by
myself. Why? Because driver's education isn't taken as seriously
as it should be.
Ultimately,
the number of injuries and deaths can be drastically reduced by
something as simple as the spread of education. Awareness is key in
the world of automobiles and careless drivers, and it is obvious that
we as a nation have not done the best job in this department. I ask
everyone to please be aware of the magnitude certain events can have
on their life, as I have experienced this firsthand with my client.
He would never wish the situation upon anyone, and he knows that it
is completely preventable.